We specialize in residential and commercial swimming pool and landscape design, individually tailored to increase the aesthetic appeal and overall enjoyment of your residential or commercial setting.
You may need our services to design a plan from scratch or you may already have a plan from an outside designer or landscape architect, which now needs to be implemented.

Regardless of where you are in the process, Green Land Co. can take your ideas and make them a reality.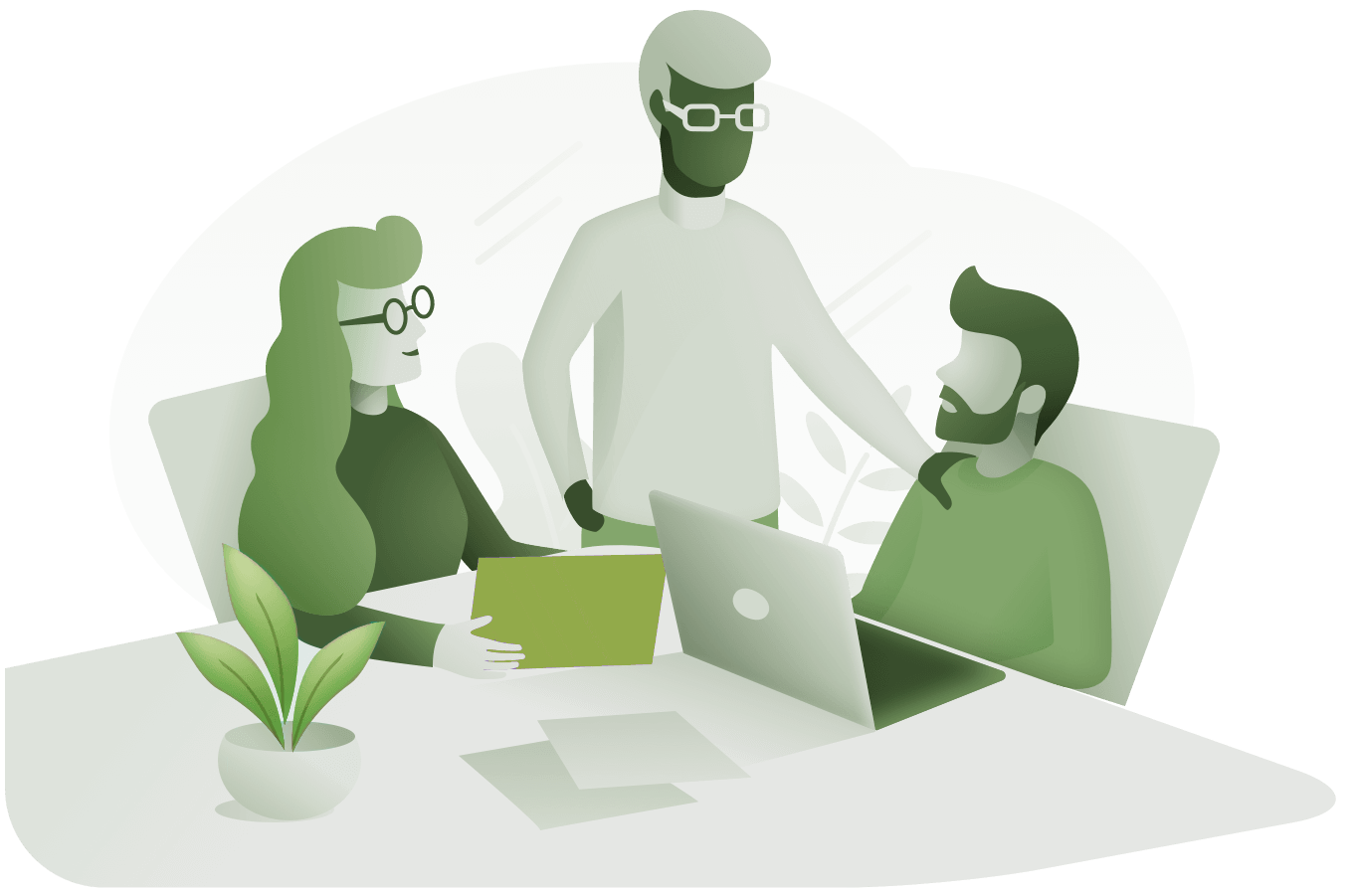 Custom Pools, Spas, Ponds, Waterfalls
We are known for our beautiful pools and spas. Over the past 35 years, we have designed and built hundreds of pools in Carlsbad, California. Each pool we design and build is custom designed and tailor made for you property.
Most pool contractors only make pools. Most landscaping contractors only do landscaping. But pools, spas and their surrounding hardscaping and landscaping have to work together seamlessly. As both a California licensed pool contractor and a Calfiornia licensed landscaping contractors, we have the experience and know how to give you a seamless look that pulls together our expertise to make your property more beautiful and more functional.

Designing residential pools is more of an art form than ever before. From waterfalls to grottos, to vanishing pools, infinity pools, and zero-edge pools, we have done it all. We make each desgin from the ground up to fit the contours of your property and to fit new or existing landscaping. Our goal is to create a soothing recreational environment for friends and family while enhancing your surroundings. Our pool designs are created to make the best use of your existing space to help increase the value of your property. We also offer the most advance, energy efficient, and eco-friendly products and systems.
Adding a fountain, pond, waterfall, or stream to your home in Carlsbad, California is a magical combination of rocks, plant textures and liquid motion which you will enjoy all year round. Today's systems are owner-friendly, affordable, natural looking, and come with less maintenance time than before.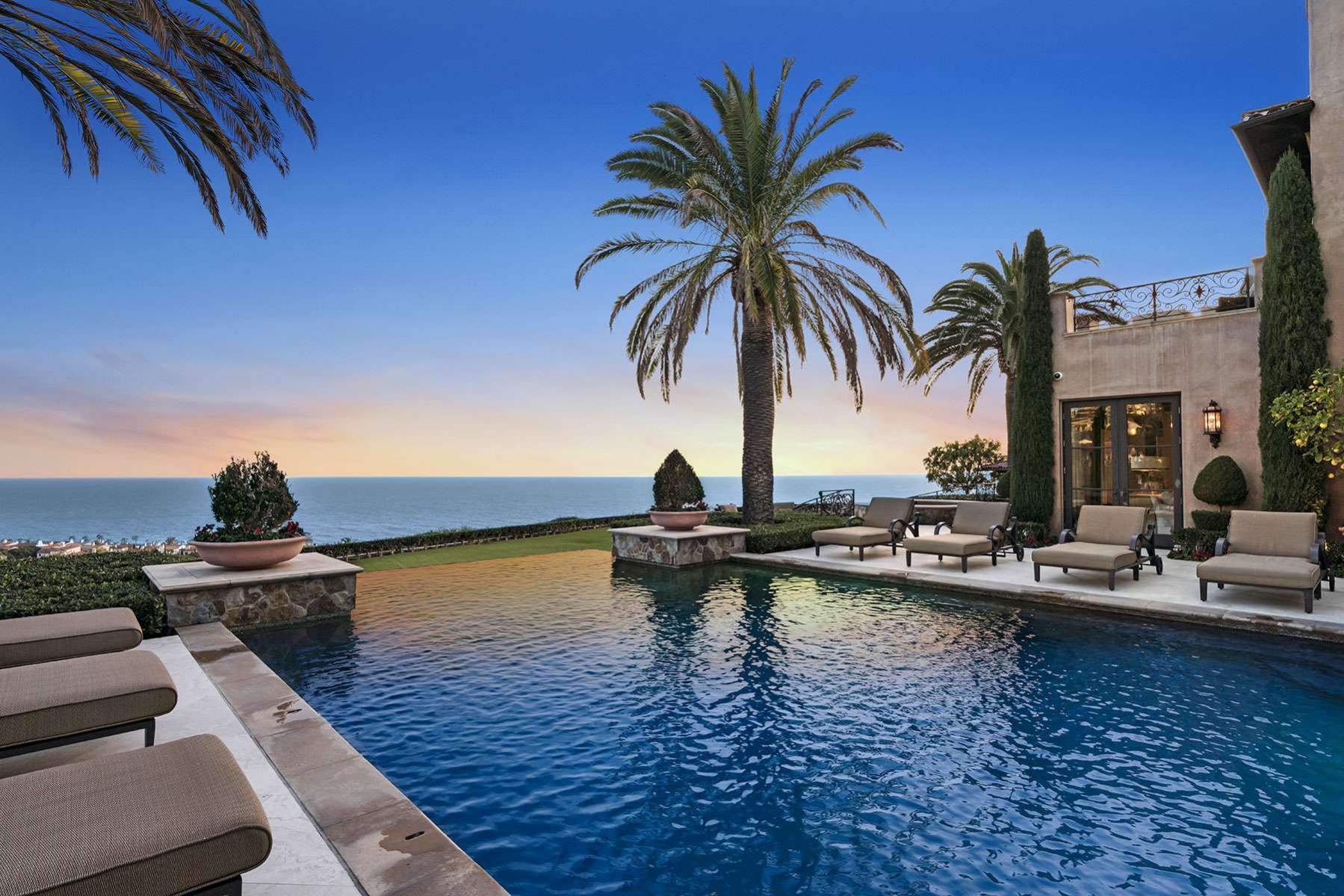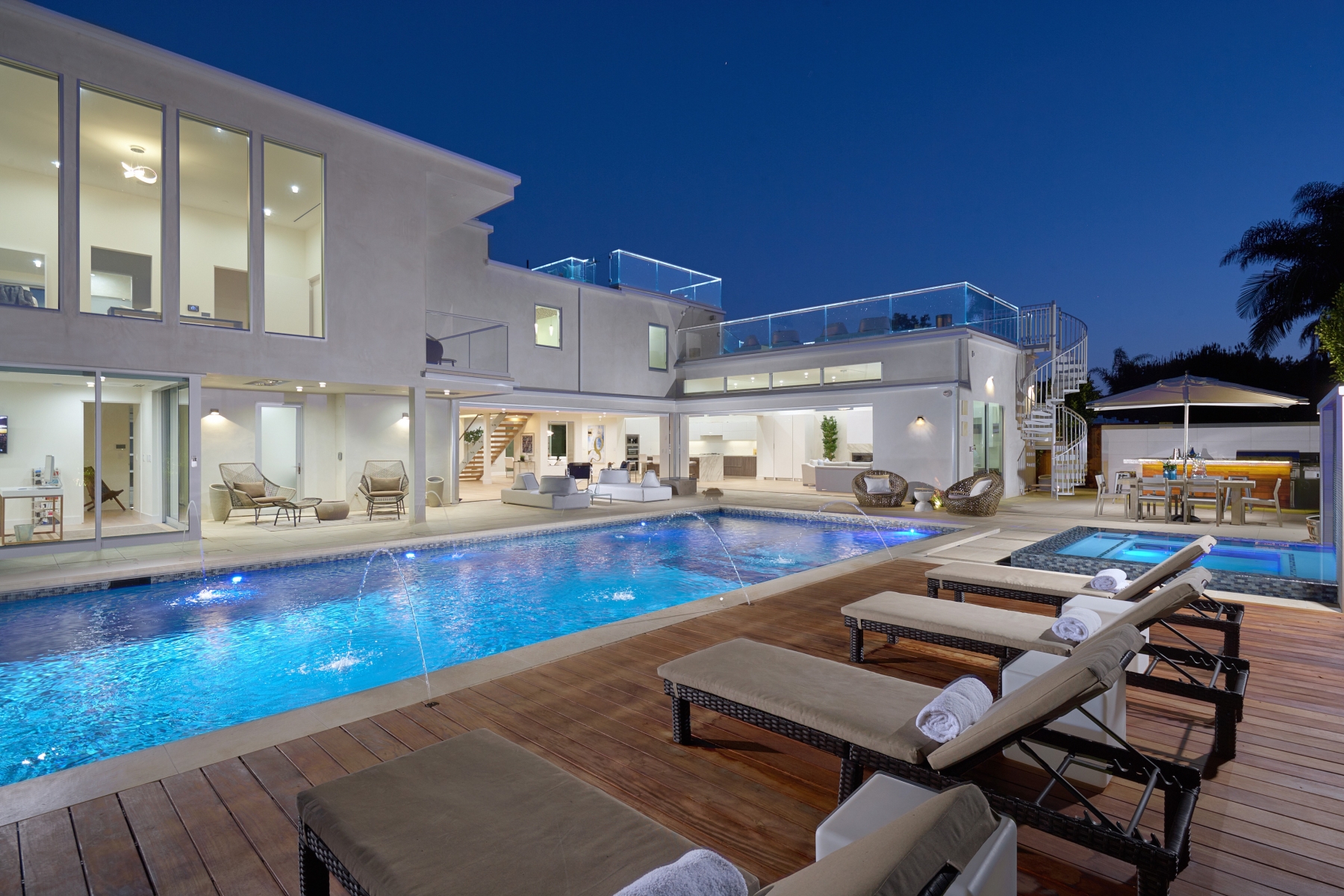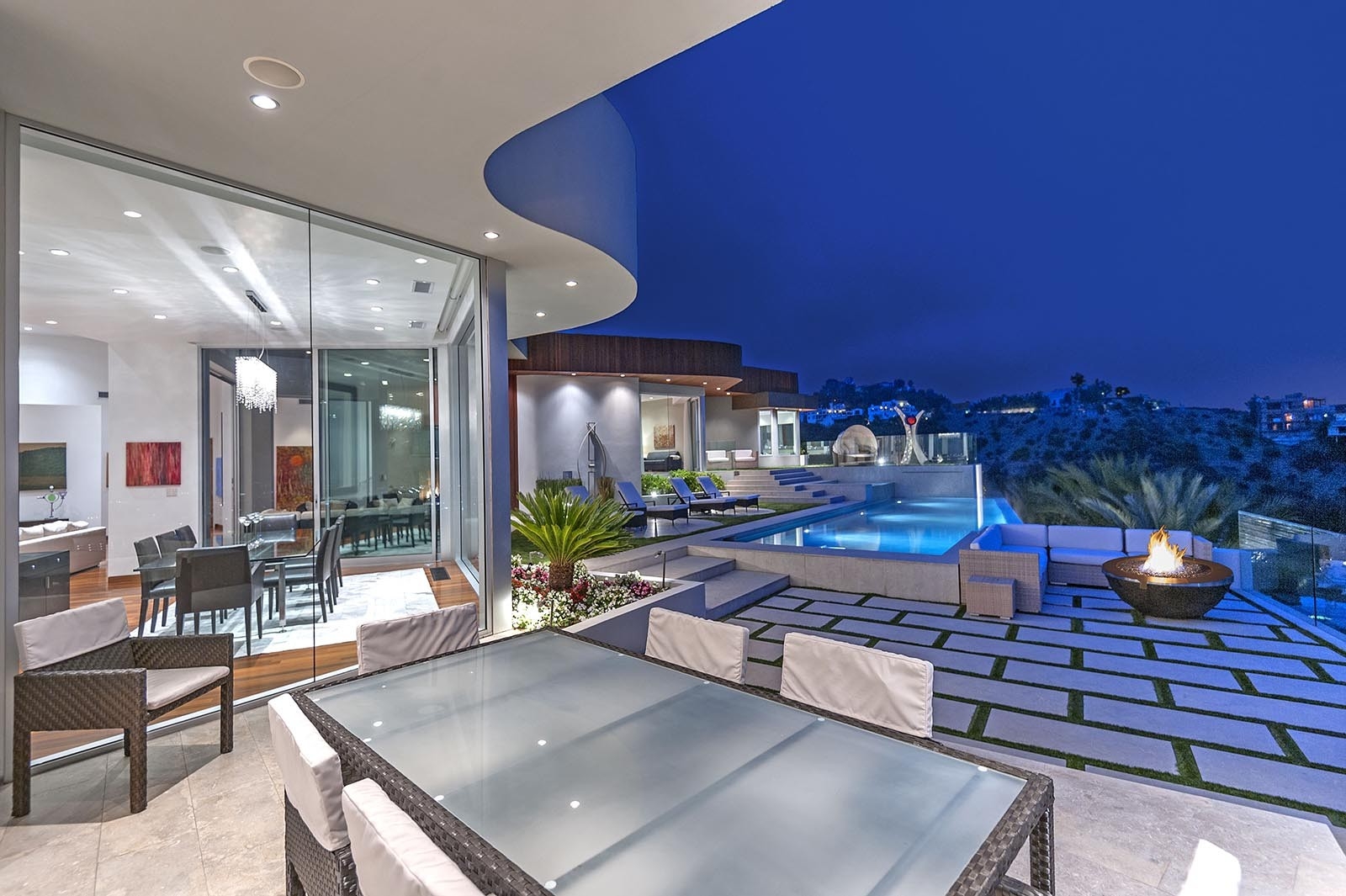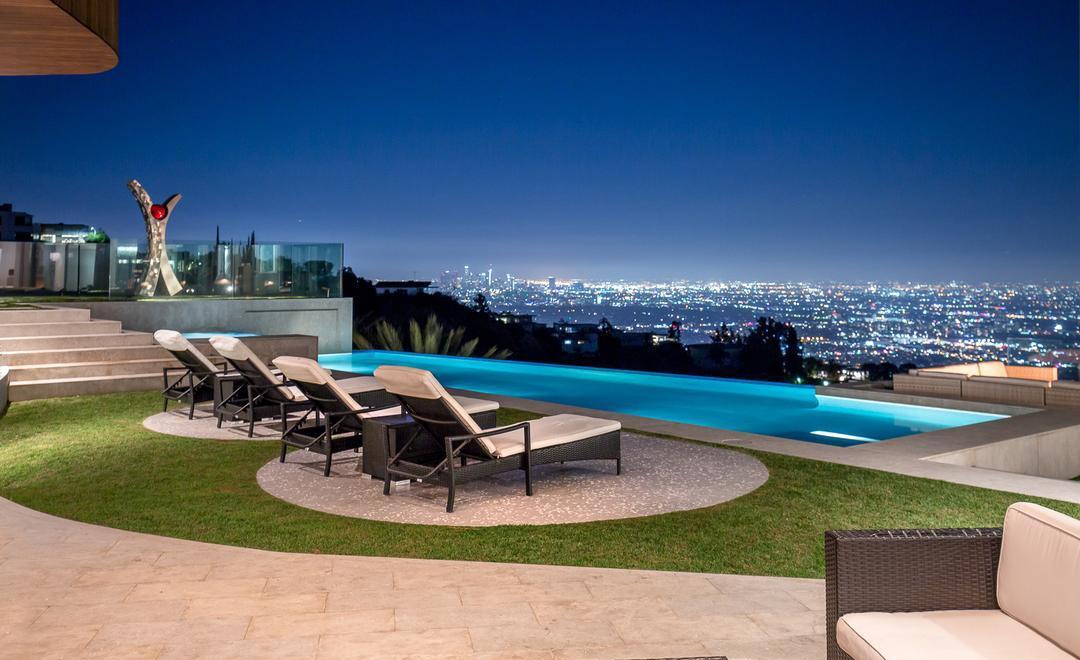 Outdoor Kitchens, BBQs, Grills
Outdoor kitchens, BBQs and grills instantly transform your backyard into a entertainment center that adds enjoyment and instant value to your home. We design a variety of covered and uncovered outdoor grills, BBQs and outdoor kitchens exactly to our customer's specifications.
We use a variety of built-in grills, appliances and other fixtures that are high quality and meet a variety of price points.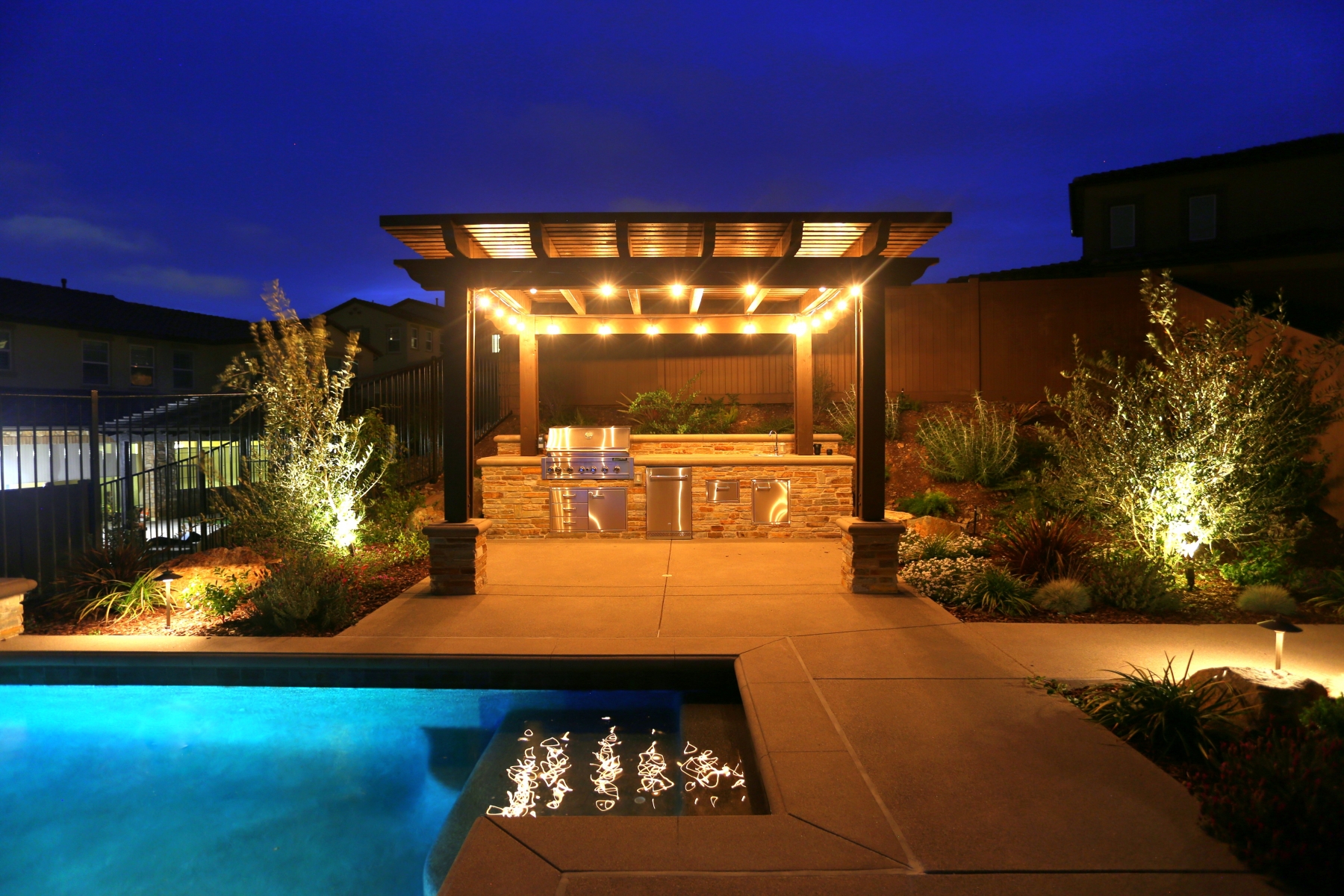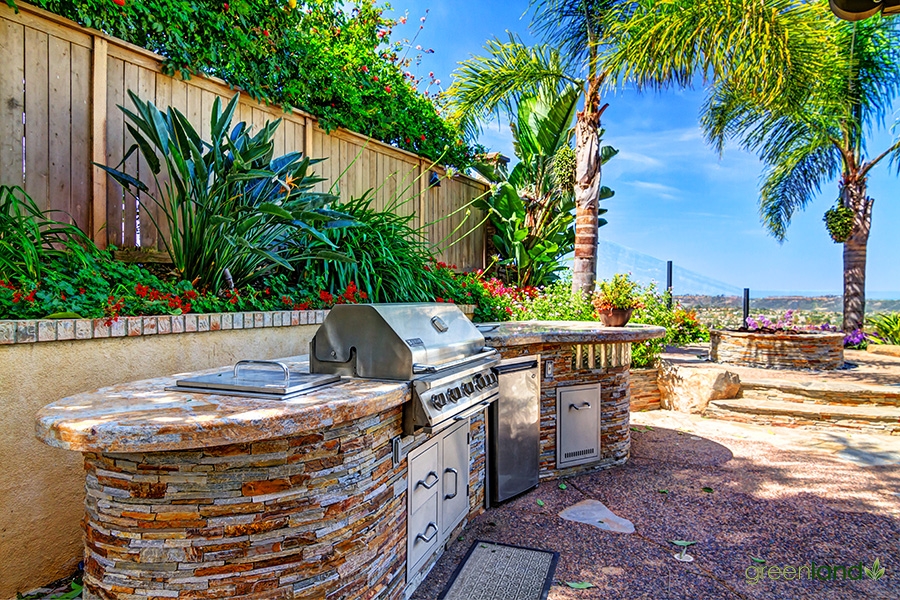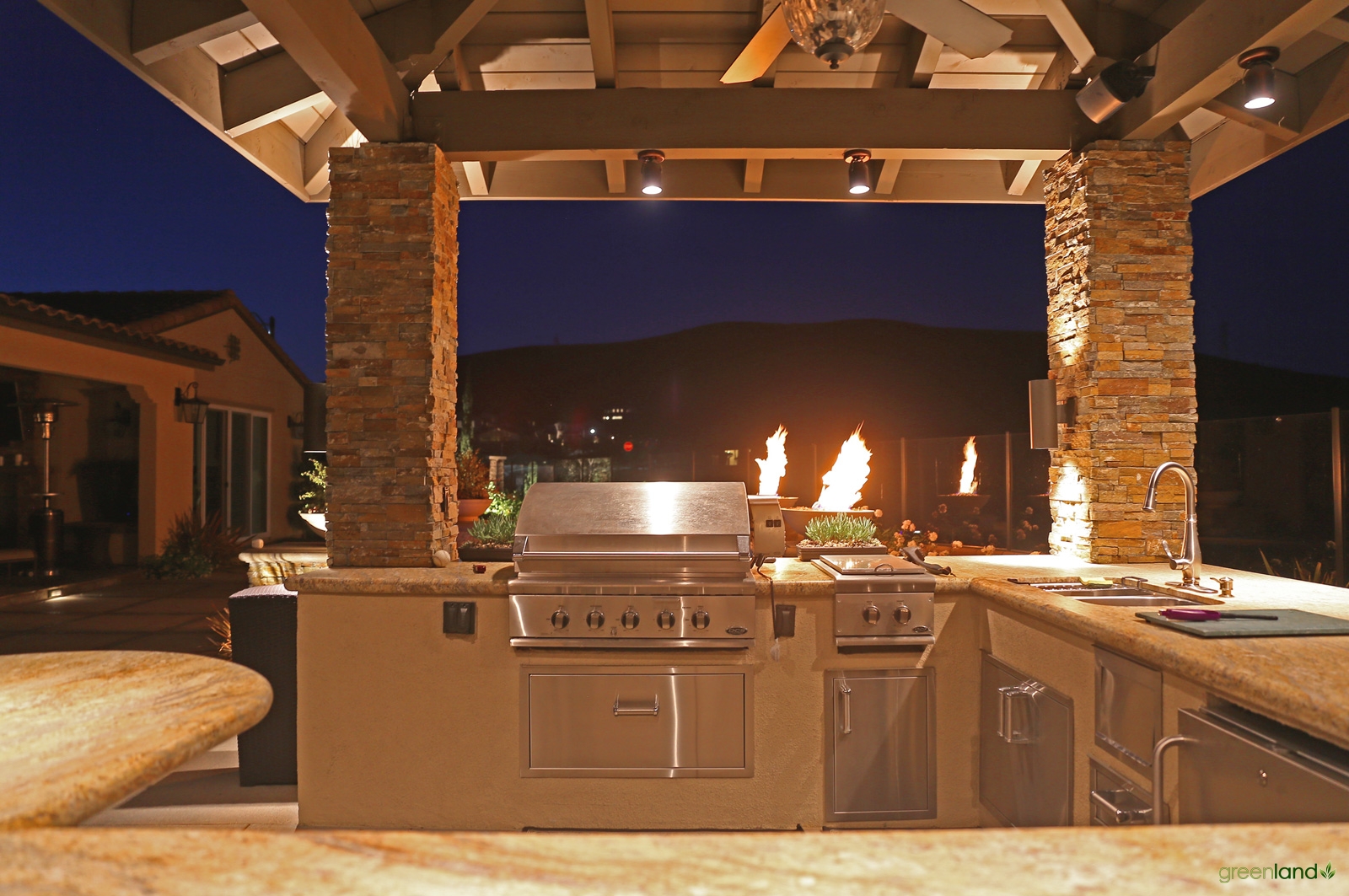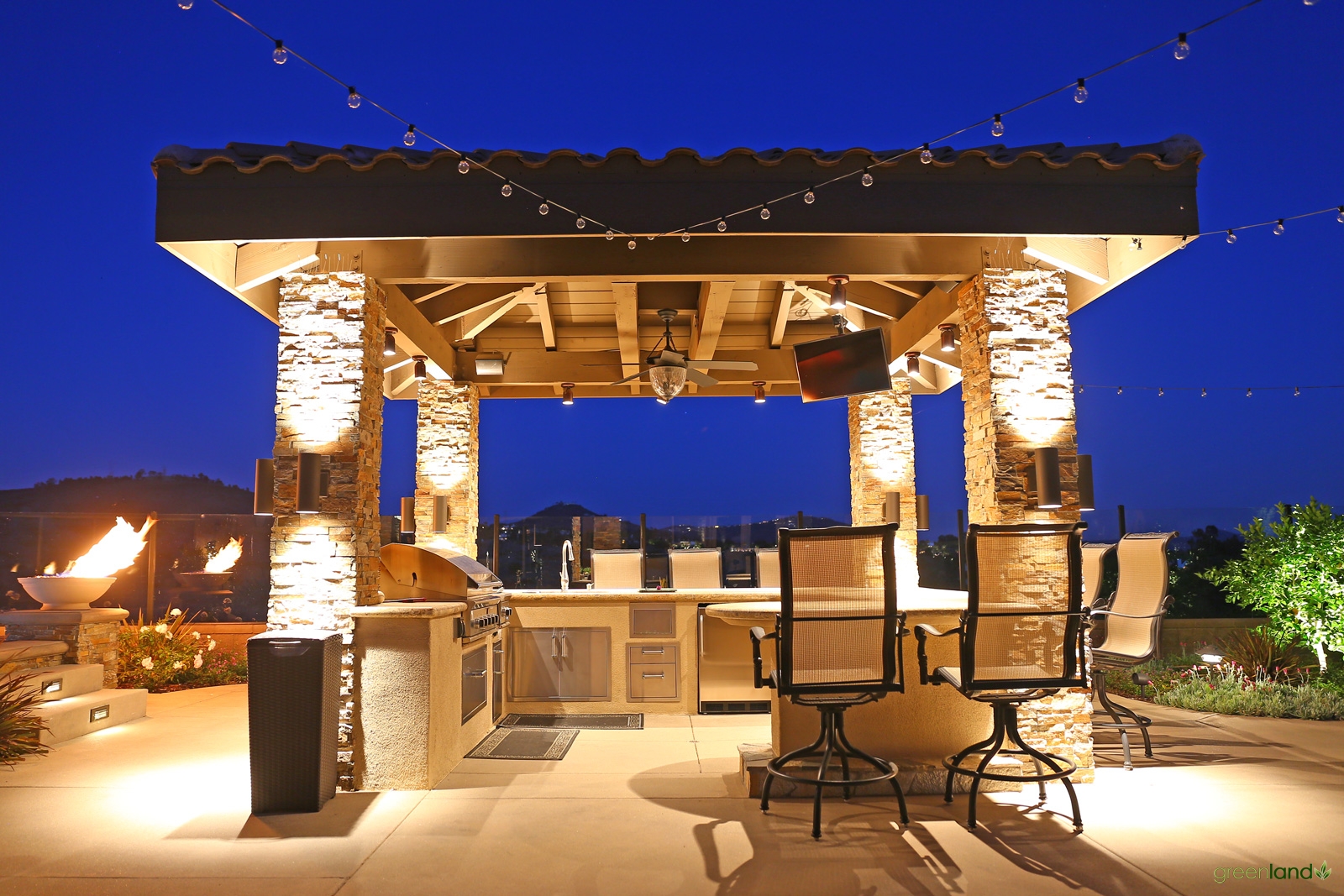 Carlsbad Custom Pool Designs and Installation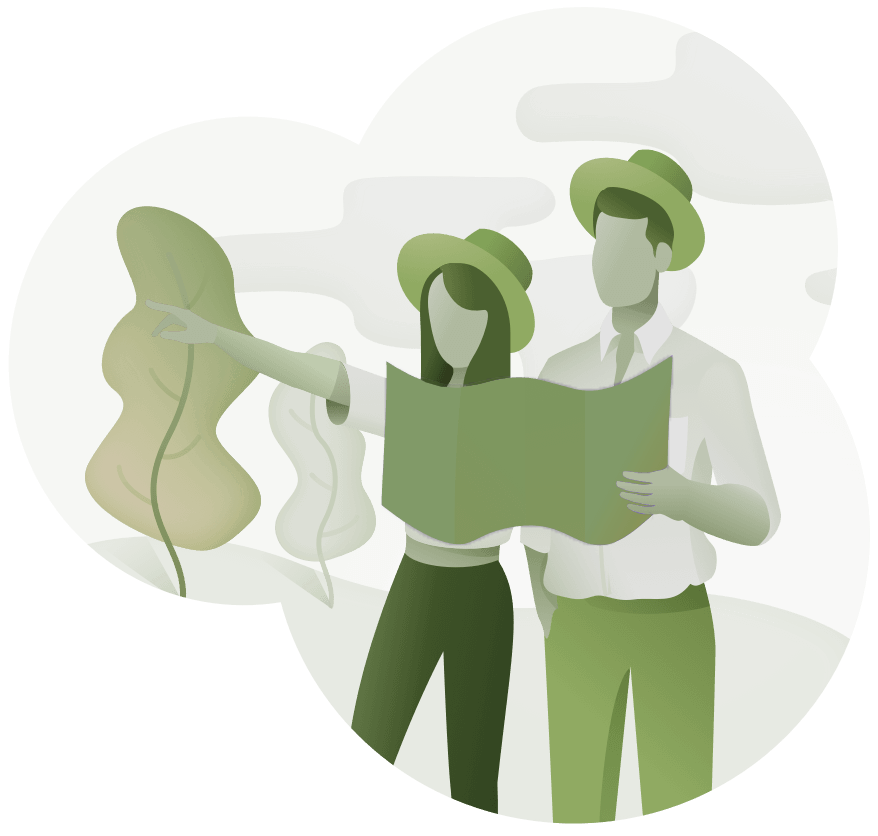 We offer the following services to our clients:
Consultation
Conceptual Design
Pools, Ponds, Waterfalls
Hardscape & Masonry
Outdoor Fire Pits and Fireplaces
Green, Eco-Friendly Landscaping
Pavers
Putting Greens
Landscape Lighting
Focal Points
Custom & Unique Projects
Maintenance & Upkeep
Please visit our gallery to see pictures of our past projects. A well-designed and properly installed landscape will provide years of enjoyment, visual interest, and can substantially increase the value of your property.

Whatever your needs, whether small or large, we offer an array of design and construction possibilities. Give us a call today and we will be happy to set up a consultation.
Your landscape consultation will guide you in discovering what your landscape requires and can be arranged to accommodate your schedule on weekdays or weekends.
The consultation includes a basic site analysis, photo documentation and a complete evaluation of the area in question. We will show you a rough design plan and provide an estimate including all the components that were discussed and agreed upon during the consultation.
2. Design
Landscape concept plans are narrowly tailored to create landscape styles that best suit your taste, lifestyle and the unique architectural elements of your property.
3. Installation
Following the design phase, we then build and install designs created not only by our own innovative designs, but also those brought to us by our clients from outside vendors and landscape architects. Many of our clients even submit their own ideas and suggestions, which we are always happy to help implement. In every case, we seek out materials and specimen plants of the highest quality and install them under the careful supervision of qualified members of our installation team.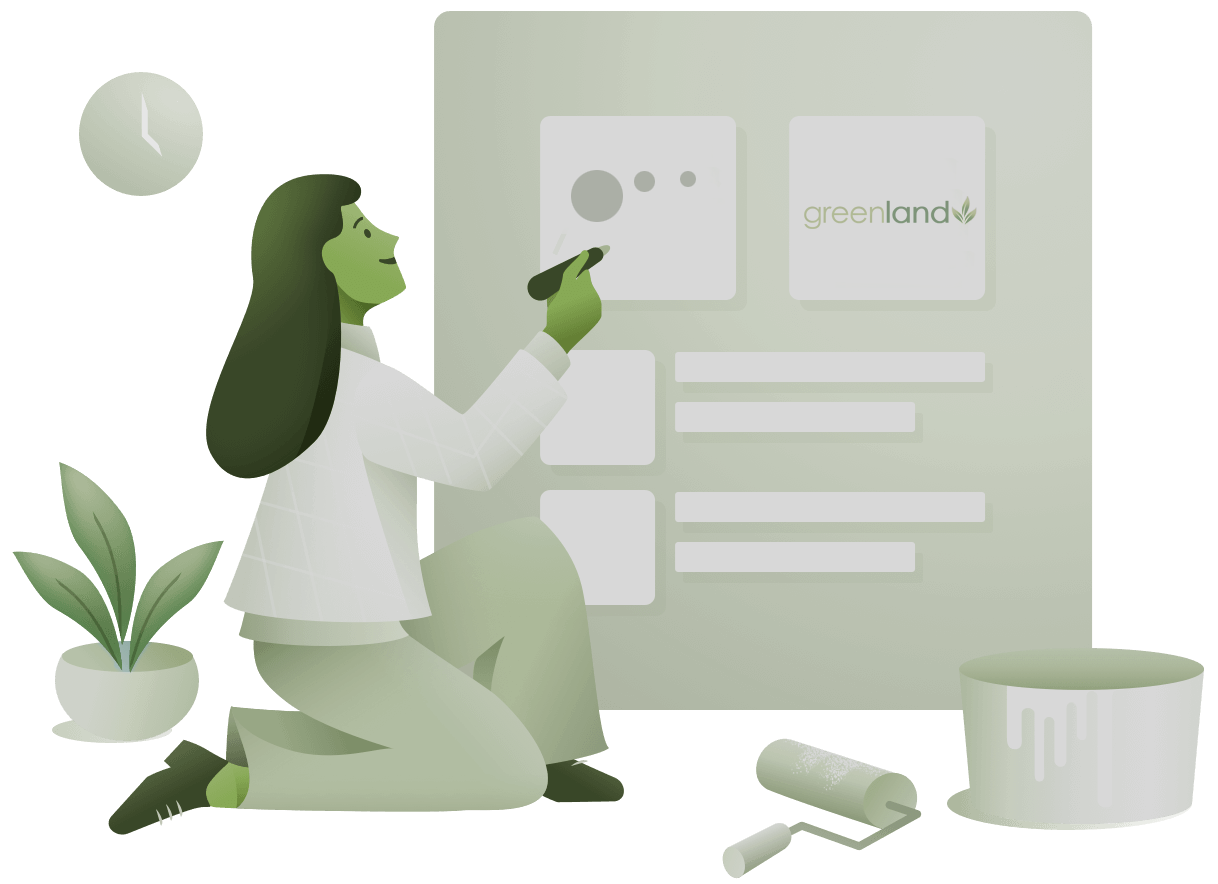 All Services Offered
Additions & Remodeling

Sunroom or Patio Enclosure Build
Brick & Stone

Brick and Stone Patios, Walks, and Steps - Install

Brick, Stone or Block Wall Install
Carpenters

Custom Arbor, Pergola or Trellis
Outdoor Gazeebos, Covered Patios
Concrete

Concrete Delivery

Stamped Concrete - Install

Retaining Wall Install

Concrete Patios, Walks & Steps Install
Decks

Deck or Porch Build or Replace

Deck or Porch Repair
Designers & Decorators

Landscape Designer

Building Designer
Bathroom Designer

Kitchen Designer
Disability Services

Disability Ramp Build

Disability Ramp Repair
Docks

Water Dock Build

Water Dock Repair
Fences

Wood Fence Install

Wood Fence Repair

Wrought Iron Fence Install

Vinyl or PVC Fence Install
Fountains & Ponds

Pond Water Feature

Fountain or Waterfall Water Feature
Furniture Repair & Refinish

Custom Furniture
Garage & Garage Doors

Build Garage
Landscaping

Sod Install

Landscaping for Yard or Garden Install

Soil, Sand, Mulch and rock Delivery

Minor Grading or Resloping

Landscape Curbing Install

Synthetic Grass for Play Area Install
Sheds & Enclosures

Sunroom or Patio Enclosure Repair

Greenhouse Repair

Yurt Build
Swimming Pools

Swimming Pool Heaters Install

Swimming Pool Covers Install

Swimming Pool Remodel

Concrete Swimming Pool Install

In-Ground Swimming Pool Repair

Infinity, Zero-Edge, and Vanishing Pools
Spools and Spas
Carlsbad is a coastal city in the North County region of San Diego County, California, United States. The city is 87 miles (140 km) south of downtown Los Angeles and 35 miles (56 km) north of downtown San Diego and is part of the San Diego-Chula Vista-Carlsbad, CA Metropolitan Statistical Area. Carlsbad is a popular tourist destination and notable home for many businesses in the golf industry. The city's 2020 census population was 114,746.
Known as "The Village by the Sea," the city of Carlsbad offers the charm of a European town with the conveniences of a large city. As you wander streets lined with antique stores, boutique shops, and sidewalk cafes, you'll soon discover much more, including miles of coastline, beautiful flower gardens and world-class resorts.
With a perfectly mild climate, each season offers a variety of unique events and activities, from street fairs to art walks. Steps away sit clean, uncrowded beaches for swimming, sunbathing and surfing as well as beautiful lagoons for fishing, bird-watching and nature trail hikes. Venture further to discover the unique destinations of LEGOLAND® California and SEA LIFE Aquarium or the nearby attractions of San Diego and Los Angeles.
Having only 103,000 residents, the city Carlsbad has also been able to maintain it gorgeous open spaces, while providing a friendly small-town atmosphere and unmatched amenities. No matter what you choose to do on vacation, Carlsbad, California, promises to offer up special experiences and fun-filled memories that will last a lifetime.
The City of Carlsbad is ideally located on the Southern California coastline and has nearly perfect weather all year round, which is why many of our customers come to us time and time again to build their custom pools and landscaping.
The City of Carslbad has several unique neighborhoods, including La Costa, La Costa Greens, La Costa Ridge, Rancho La Costa, Bariquitos Lagoon, Aviara, Poinsettia, Bressi Ranch, Rancho Carrillo, Palomar Airport, Carlsbad Ranch, South Beach, Rancho Carlsbad / Sunny Creek, Aqua Hedionda Lagoon, Kelly Ranch, Hedionda Point, Robertson Ranch, Calavera Hills, Olde Carlsbad, Tamarack Point, Barrio Carlsbad, North Beach, Carlsbad Village, and Buena Vista Lagoon. The northern area of the city is part of a tri-city area consisting of northern Carlsbad, southern Oceanside and western Vista.
Carlsbad's microclimate is perfect for numerous landscaping types. According to the United States Census Bureau, the city has a total area of 39.1 square miles (101 km2) of which 37.7 square miles (98 km2) are land and 1.4 square miles (3.6 km2) are (3.55%) water, the majority of which is contained within three lagoons and one lake. The ocean-side cliffs fronting wide white-sand beaches and mild climate attract vacationers year-round.[26] Carlsbad has a semi-arid Mediterranean climate (Koppen classification BSh) and averages 263 sunny days per year. Winters are mild with periodic rain. Frost is rare along the coast, but sometimes occurs in inland valleys in December and January. Summer is almost rain free, but overcast and cool with fog off the Pacific. While most days have mild and pleasant temperatures, hot dry Santa Ana winds bring high temperatures on a few days each year, mostly in the fall.
Carlsbad Pool and Landscaping Regulations
Since 1994, Carlsbad has followed the Uniform Swimming Pool, Spa and Hot Tub Code as part of Chapter 18.17 of the Carlsbad Municipal Code. The Uniform Swimming Pool, Spa and Hot Tub Code, 1997 Edition, copyrighted by the International Association of Plumbing and Mechanical Officials, except Section 110.0, Fees, is adopted by reference as the city swimming pool, spa, and hot tub code. (Ord. NS-531 § 1, 2000; Ord. NS-279 § 2, 1994). The building official appointed pursuant to the provisions of Chapter 18.04 is designated as the administrative authority and authorized and directed to enforce the provisions of this chapter. (Ord. NS-279 § 2, 1994).
Since 2012, Carlsbad, like many other cities in California, has put into place building codes and regulations regarding water efficient landscaping. As a Carlsbad-based landscape and pool contractor, Green Land Co. is familiar with these rules and regulations and always meet and/or exceed these requirements. We are proud to work with the City of Carlsbad in creating water efficient landscaping projects.
Carlsbad's water efficient landscaping regulations are set forth in the Carlsbad Municipal Code, Chapter 18.50.
A. The state legislature determined in the Water Conservation in Landscaping Act (the "Act"), Government Code Section 65591 et seq., that the state's water resources are in limited supply and are subject to ever increasing demands, and that California's continued economic prosperity is dependent on adequate supplies of water being available for future uses. The legislature also recognized that while landscaping is essential to the quality of life in California, landscape design, installation, maintenance and management must be water efficient. The general purpose of this chapter is to establish water use standards for landscaping in the City of Carlsbad that implement legislative amendment AB 1881, 2006 Stats Chapter 559 enacting the Act; and the 2006 development landscape design requirements established by the Act. Consistent with the legislature's findings, the purpose of this chapter is to:
1. Promote the values and benefits of landscaping practices that integrate and go beyond the conservation and efficient use of water;
2. Establish a structure for planning, designing, installing, maintaining, and managing water efficient landscapes in new construction and rehabilitated projects by encouraging the use of a watershed approach that requires cross-sector collaboration of industry, government and property owners to achieve the many benefits possible;
3. Promote the use, when available, of treated recycled water, for irrigating landscaping;
4. Use water efficiently without waste by setting a maximum applied water allowance (MAWA) as an upper limit for water use and reduce water use for landscaping to the lowest practical amount; and
5. Encourage water users of existing landscapes to use water efficiently and without waste.
B. Landscapes that are planned, designed, installed, managed and maintained with the watershed based approach can improve Carlsbad's environmental conditions and provide benefits realizing sustainability goals. Such landscapes will make the urban environment resilient in the face of climatic extremes. Consistent with the purpose of this chapter, conditions in the urban setting will be improved by:
1. Creating the conditions to support life in the soil by reducing compaction, incorporating organic matter that increases water retention, and promoting productive plant growth that leads to more carbon storage, oxygen production, shade, habitat and aesthetic benefits.
2. Minimizing energy use by reducing irrigation water requirements, reducing reliance on petroleum-based fertilizers and pesticides, and planting climate appropriate shade trees in urban areas.
3. Conserving water by capturing and reusing rainwater and graywater wherever possible and selecting climate appropriate plants that need minimal supplemental water after establishment.
4. Protecting air and water quality by reducing power equipment use and landfill disposal trips, selecting recycled and locally sourced materials, and using compost, mulch and efficient irrigation equipment to prevent erosion.
5. Protecting existing habitat and creating new habitat by choosing local native plants, climate adapted non-natives and avoiding invasive plants. Utilizing integrated pest management with least toxic methods as the first course of action. (Ord. CS-294 § 1, 2016; Ord. CS-175 § 1, 2012)
The Carlsbad City Planner is the one in charge of water efficient landscaping regulations.
The City of Carlsbad Landscape Manual Policies and Requirements ("Landscape Manual"). You can browse the City of Carlsbad Landscape Manual, which includes policies and regulations that must be followed.
Sources: https://en.wikipedia.org/wiki/Carlsbad,_California
Carlsbad Municipal Code: https://library.qcode.us/lib/carlsbad_ca/pub/municipal_code
Carlsbad City Website: https://visitcarlsbad.com/
Carlsbad Neighborhood Map: https://www.carlsbadca.gov/residents/your-home/neighborhoods-map
Carlsbad Landscape Manual Policies and Requirements (Landscape Manual): City of Carlsbad Landscape Manual
Cardiff By The Sea, CA
Carlsbad, CA
Del Mar, CA
Encinitas, CA
Escondido, CA
Fallbrook, CA

La Costa, CA
La Jolla, CA
Leucadia, CA
North County
Oceanside
Poway, CA

Rancho Santa Fe, CA
San Diego, CA
San Diego County, CA
San Marcos, CA
Solana Beach, CA