San Diego Landscape Design and Contractor
We specialize in residential and commercial landscape design, individually tailored to increase the aesthetic appeal and overall enjoyment of your residential or commercial setting.
You may need our services to design a plan from scratch or you may already have a plan from an outside designer or landscape architect, which now needs to be implemented.

Regardless of where you are in the process, Green Land Co. can take your ideas and make them a reality.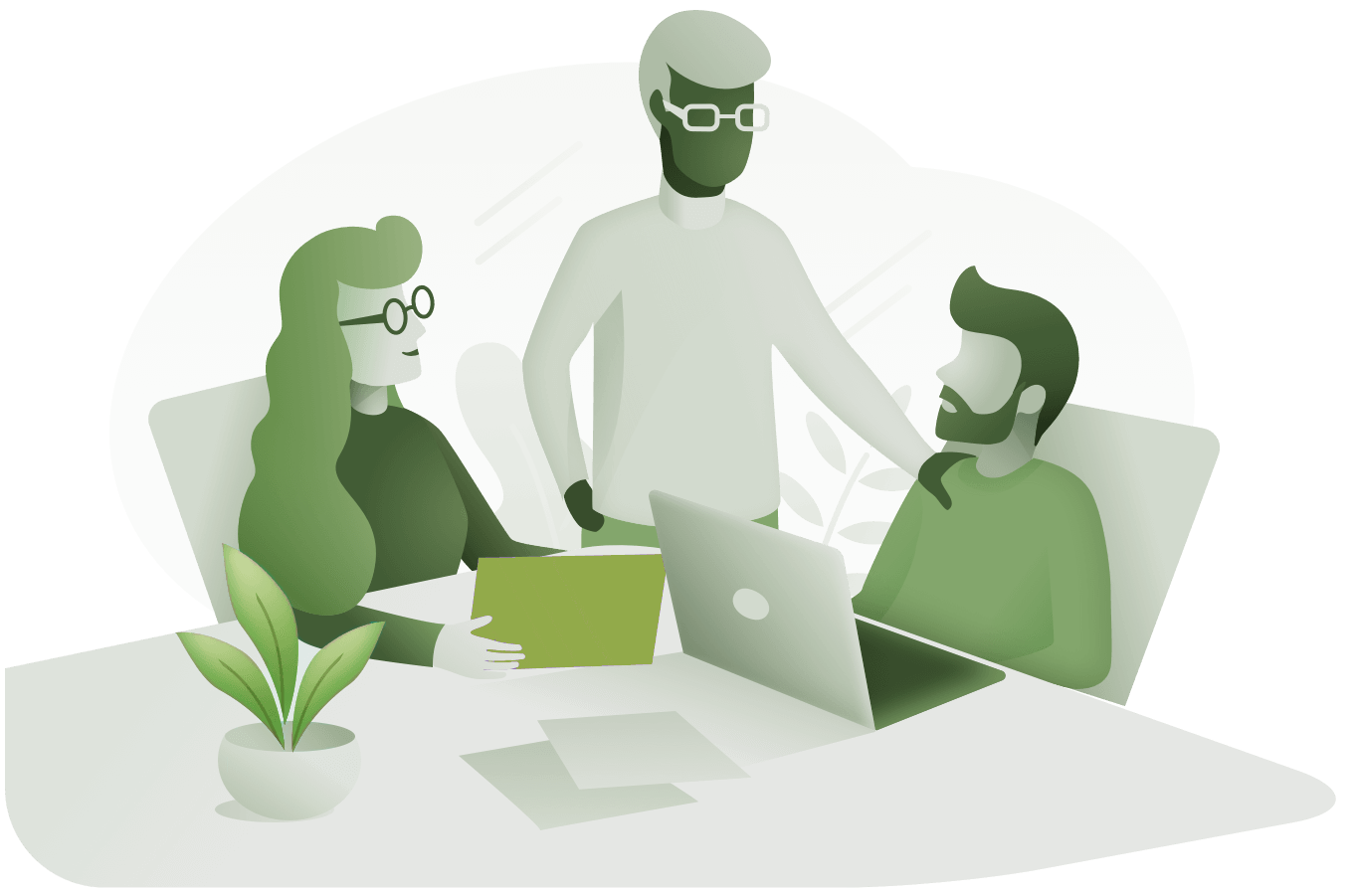 Custom Landscape and Pool Designs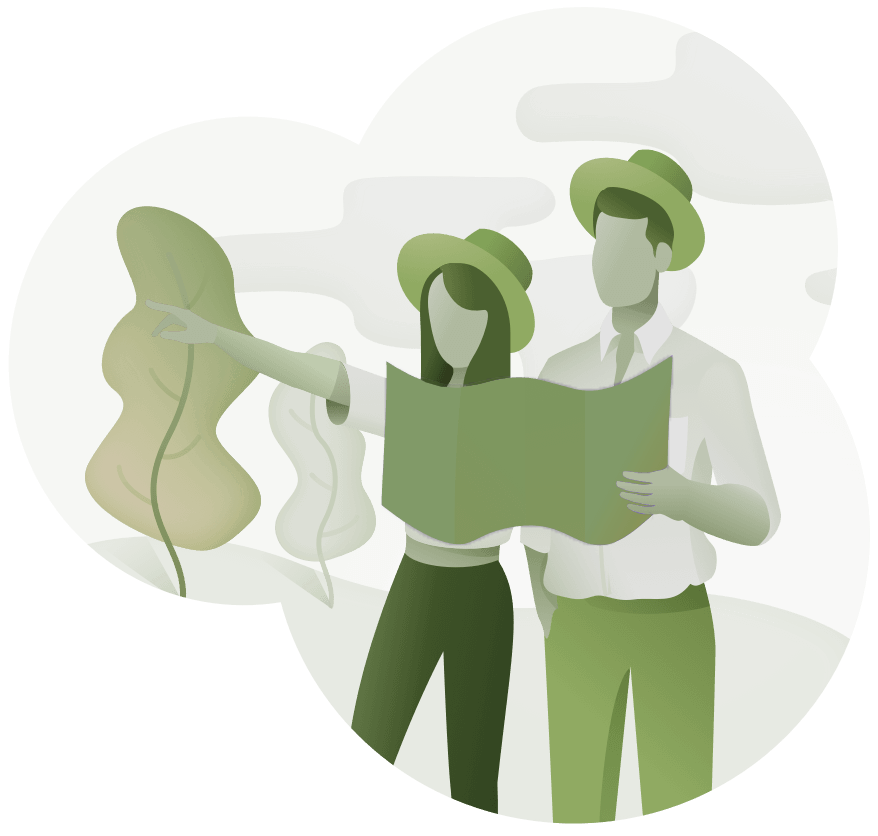 We offer the following services to our clients:
Consultation
Conceptual Design
Pools, Ponds, Waterfalls
Hardscape & Masonry
Outdoor Fire Pits and Fireplaces
Green, Eco-Friendly Landscaping
Pavers
Putting Greens
Landscape Lighting
Focal Points
Custom & Unique Projects
Maintenance & Upkeep
Please visit our gallery to see pictures of our past projects. A well-designed and properly installed landscape will provide years of enjoyment, visual interest, and can substantially increase the value of your property.

Whatever your needs, whether small or large, we offer an array of design and construction possibilities. Give us a call today and we will be happy to set up a consultation.
Custom Pools, Spas, Ponds, Waterfalls
We are known for our beautiful pools and spas. Over the past 35 years, we have designed and built hundreds of pools. Each pool we design and build is custom designed and tailor made for you property.
Most pool contractors only make pools. Most landscaping contractors only do landscaping. But pools, spas and their surrounding hardscaping and landscaping have to work together seamlessly. As both a California licensed pool contractor and a Calfiornia licensed landscaping contractors, we have the experience and know how to give you a seamless look that pulls together our expertise to make your property more beautiful and more functional.

Designing residential pools is more of an art form than ever before. From waterfalls to grottos, to vanishing pools, infinity pools, and zero-edge pools, we have done it all. We make each desgin from the ground up to fit the contours of your property and to fit new or existing landscaping. Our goal is to create a soothing recreational environment for friends and family while enhancing your surroundings. Our pool designs are created to make the best use of your existing space to help increase the value of your property. We also offer the most advance, energy efficient, and eco-friendly products and systems.
Adding a fountain, pond, waterfall, or stream to your landscape design is a magical combination of rocks, plant textures and liquid motion which you will enjoy all year round. Today's pond systems are owner-friendly, affordable, natural looking, and come with less maintenance time than before.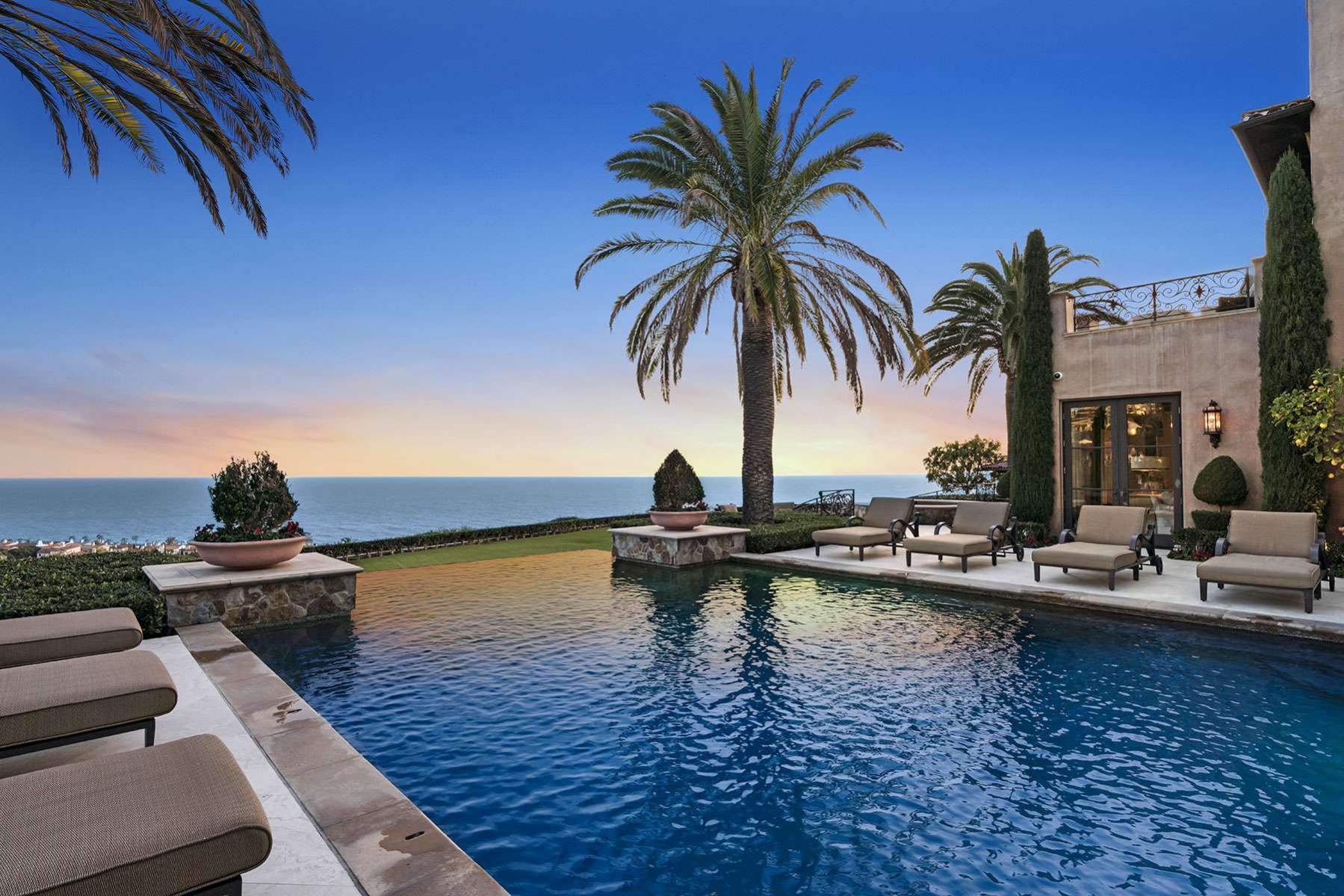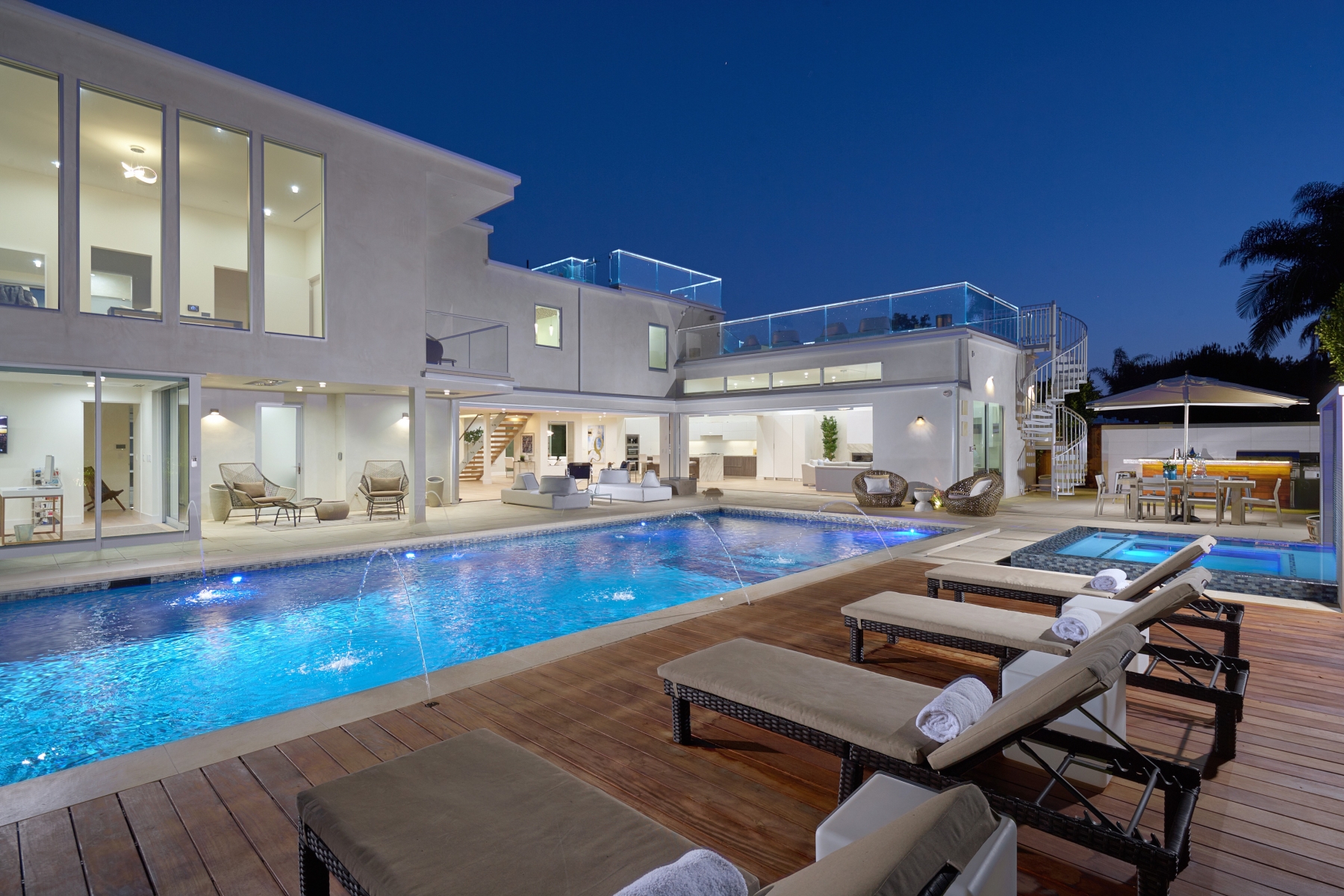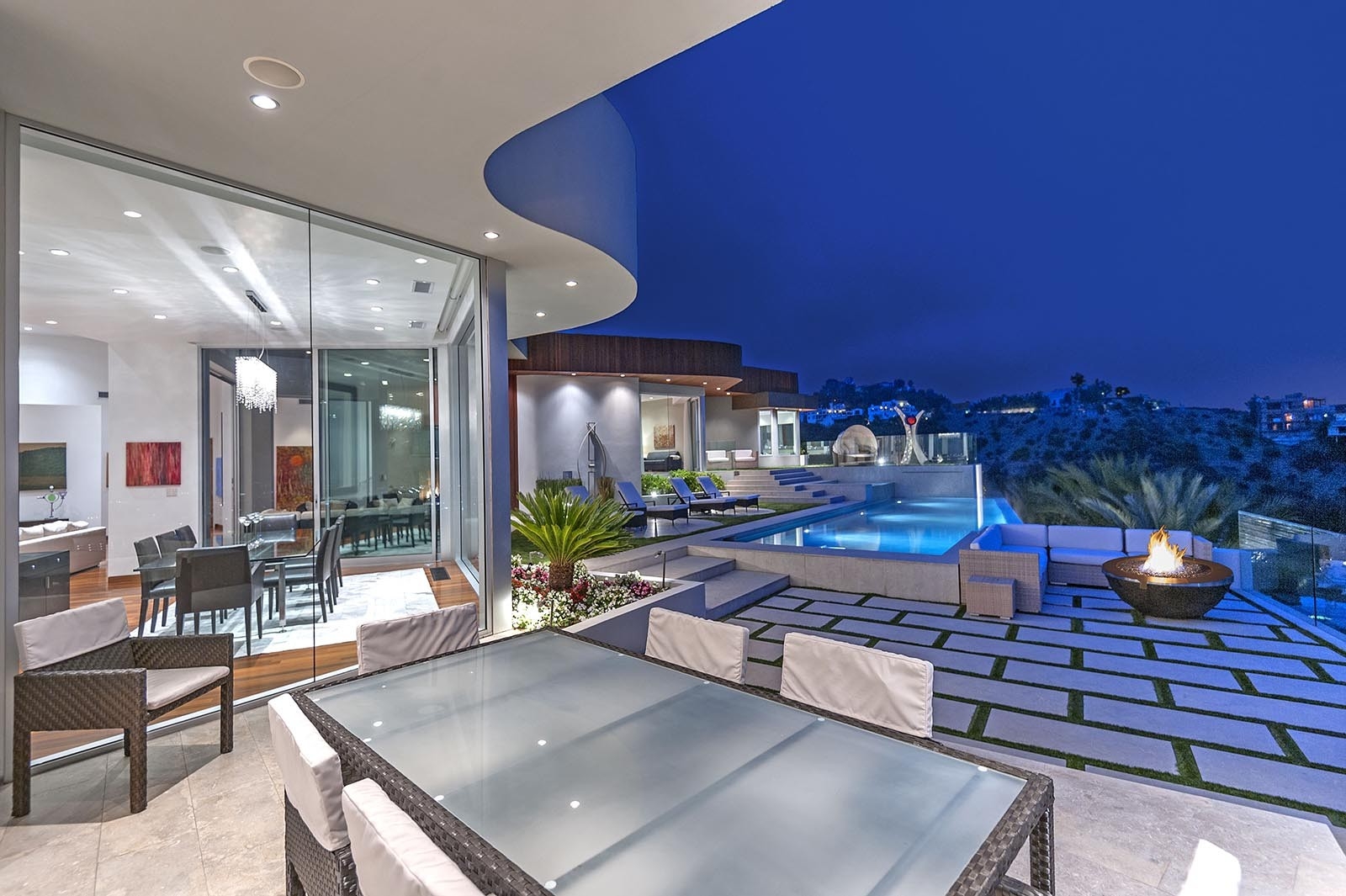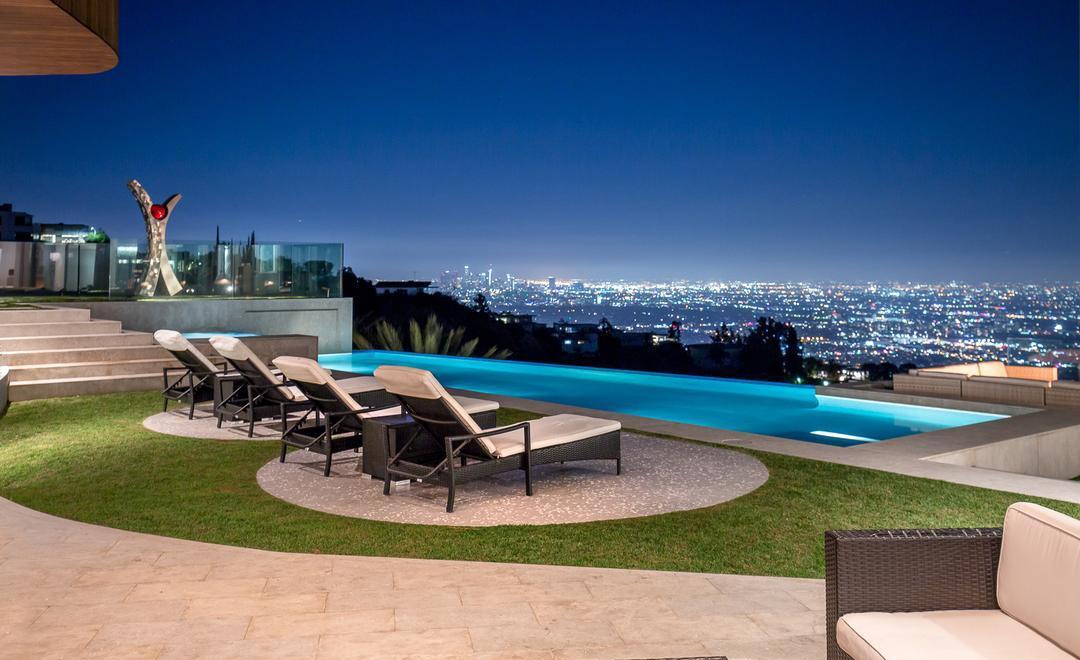 Outdoor Kitchens, BBQs, Grills
Outdoor kitchens, BBQs and grills instantly transform your backyard into a entertainment center that adds enjoyment and instant value to your home. We design a variety of covered and uncovered outdoor grills, BBQs and outdoor kitchens exactly to our customer's specifications.
We use a variety of built-in grills, appliances and other fixtures that are high quality and meet a variety of price points.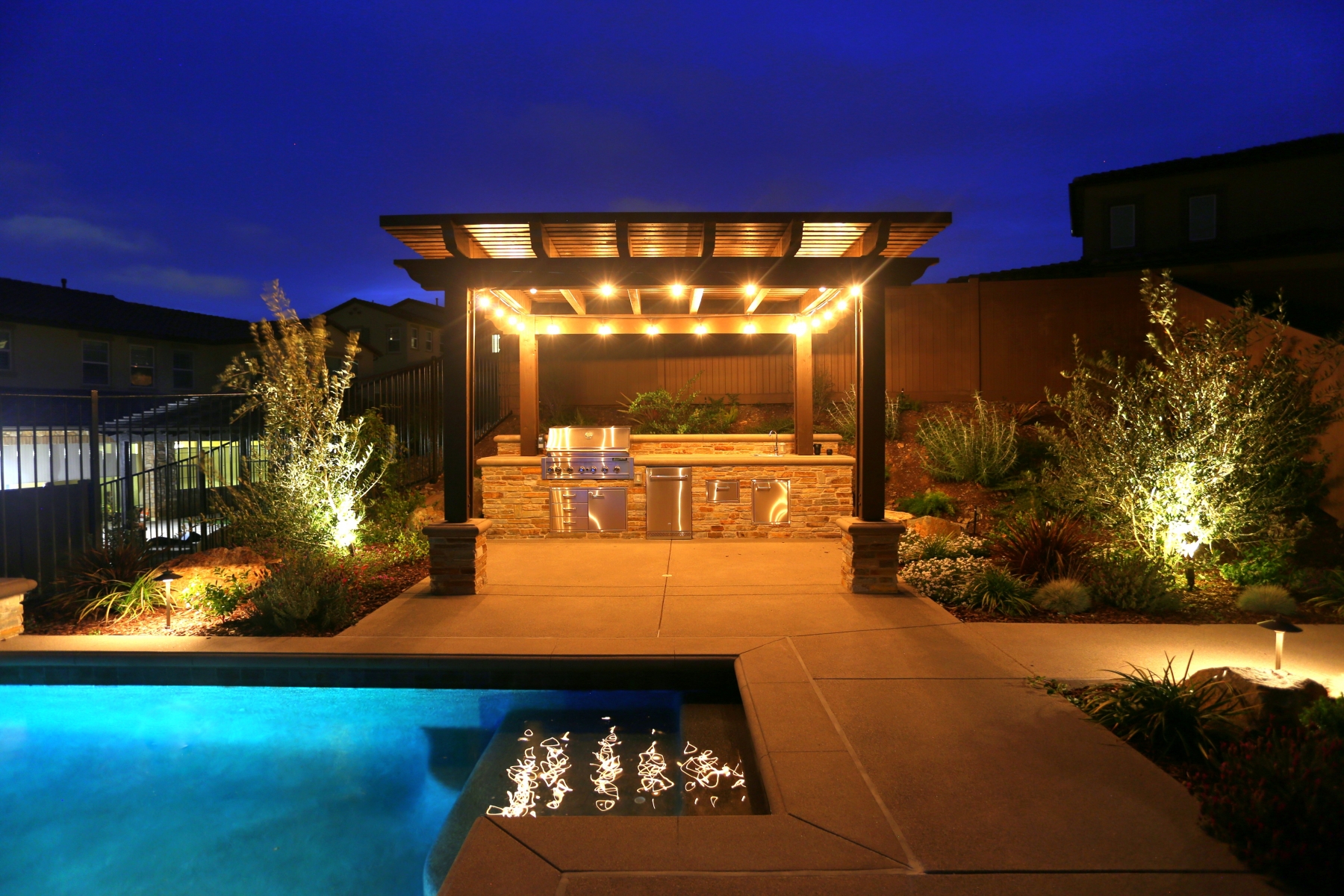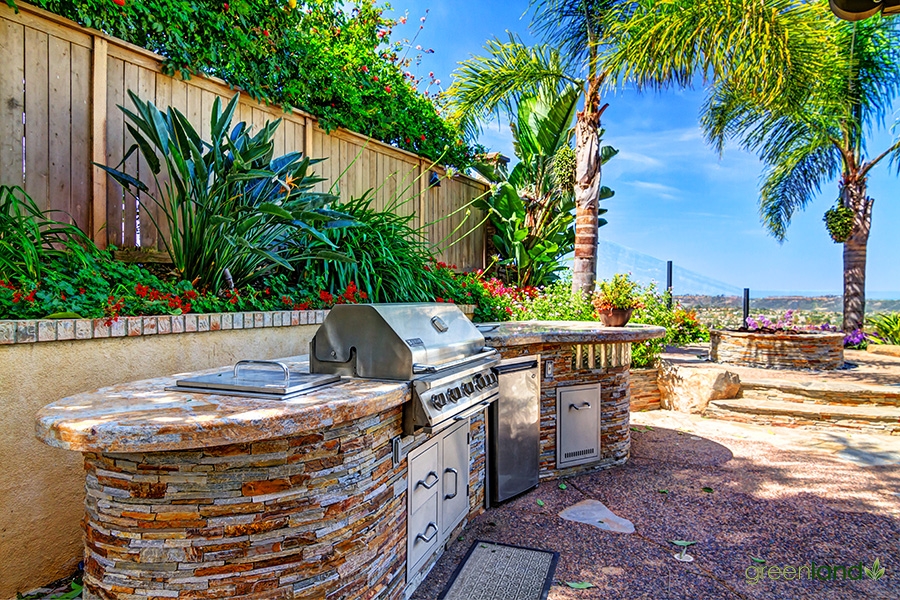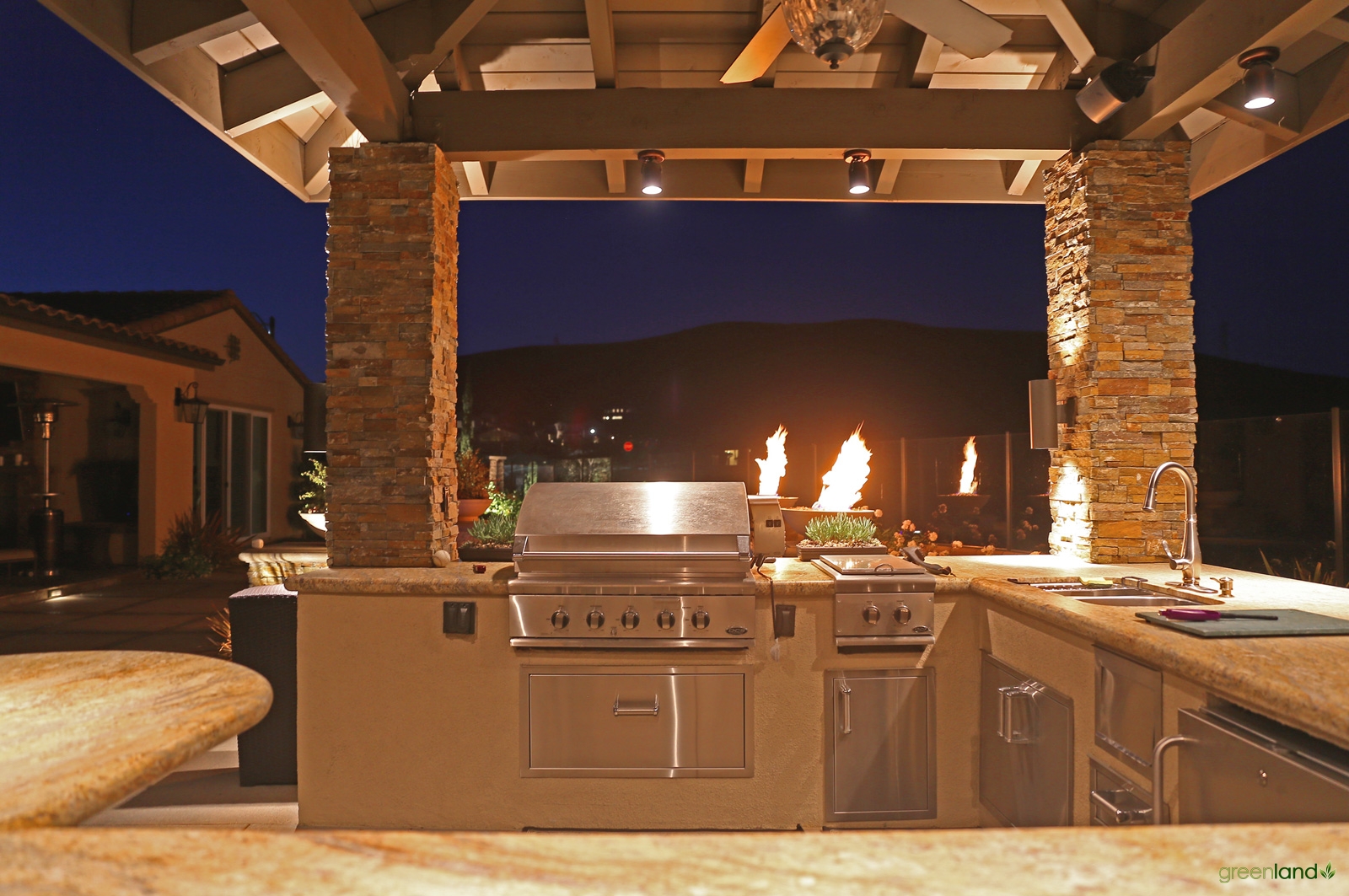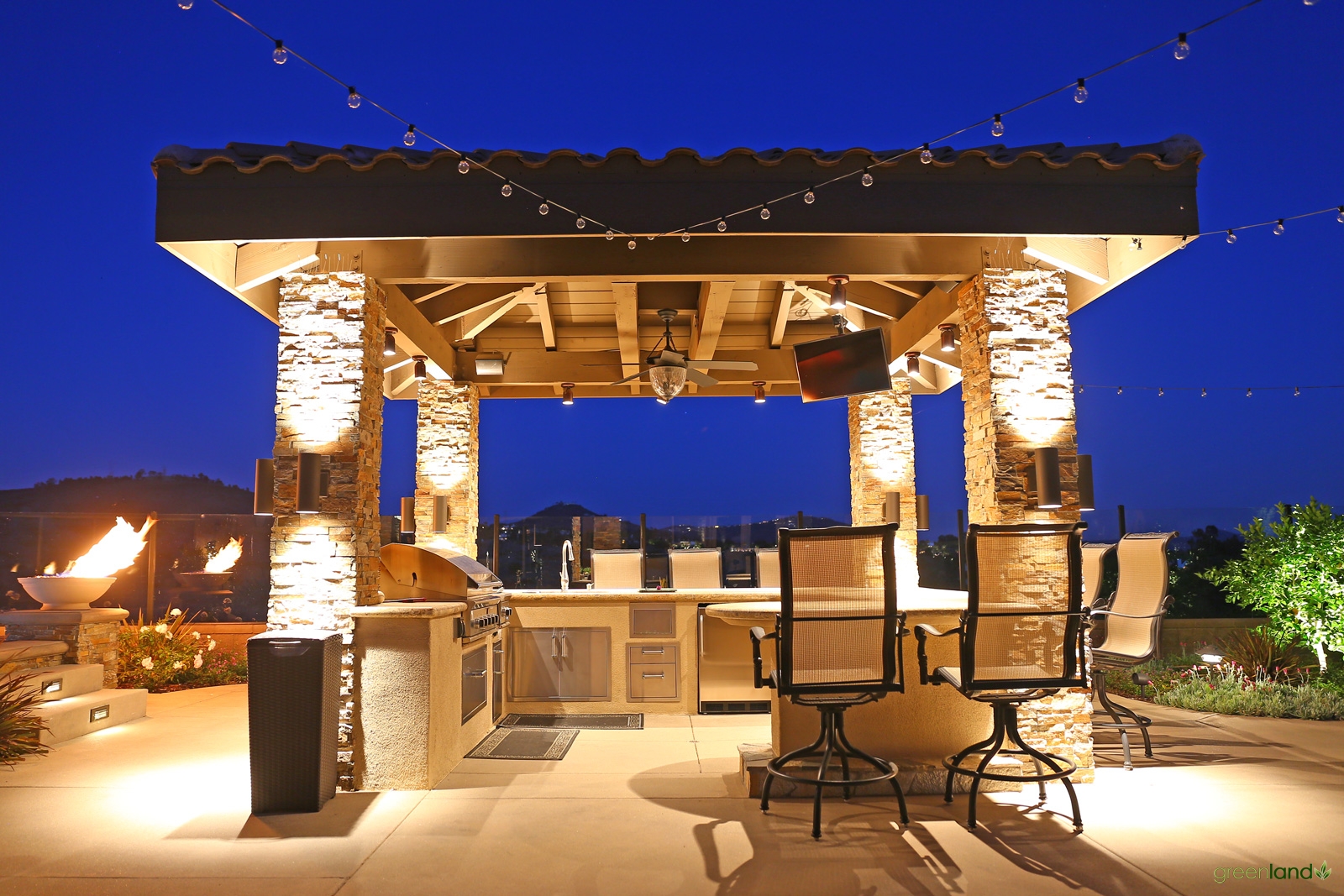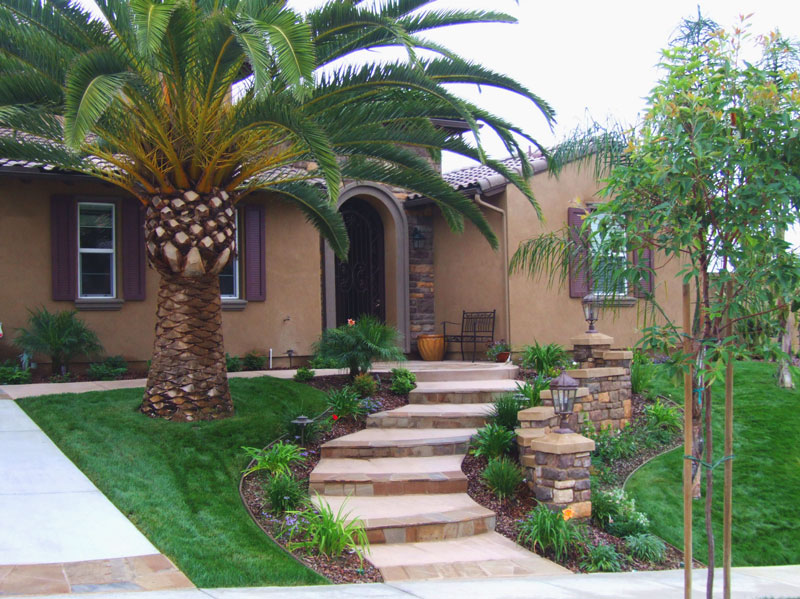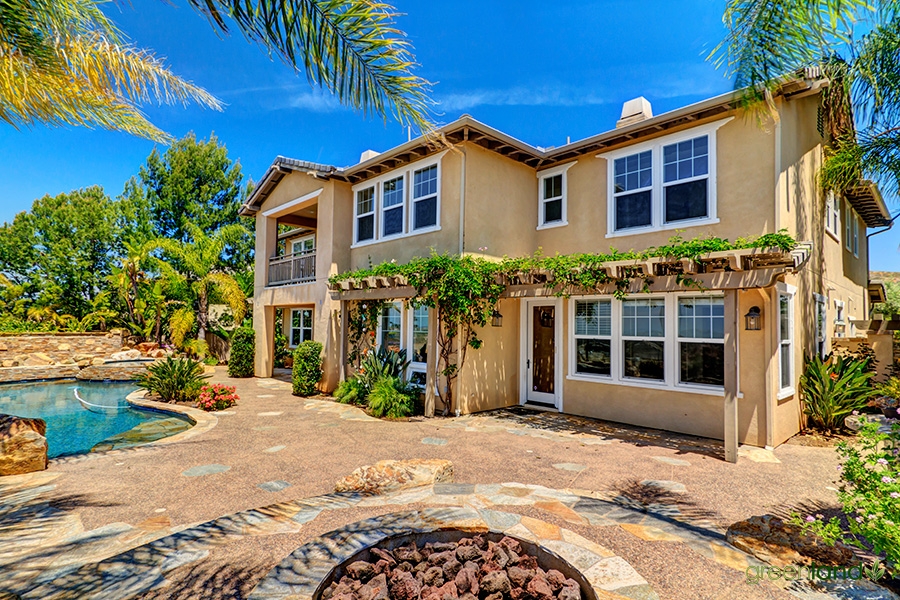 Masonry work, woodwork, structures, patios, decks, retaining walls, and walkways made with "hard" materials are all commonly referred to in landscaping terms as the hardscape.
Sloping sites can often benefit from the construction of retaining walls to provide more level areas for planting and other uses. Walls are one of the most popular and useful hardscape additions to a landscape. Our helpful hardscape experts can provide you with a multitude of options for decks, walls, pathways, fences, paving, bed edges, and stepping stones, made of flagstone, concrete, brick, granite, gravel, wood, steel, iron, vinyl, and more.
Putting greens are an excellent way to practice your golf game in your own backyard. With our creative designs, you can maximize your space and have your putting green not just be a functional and fun space to practice golf, but also a beautiful addition to the overall landscape design of your yard. We offer a variety of different custom designs to suit each of our client's needs. Our putting greens are also well irrigated to ensure a long-lasting and beautiful addition to your home.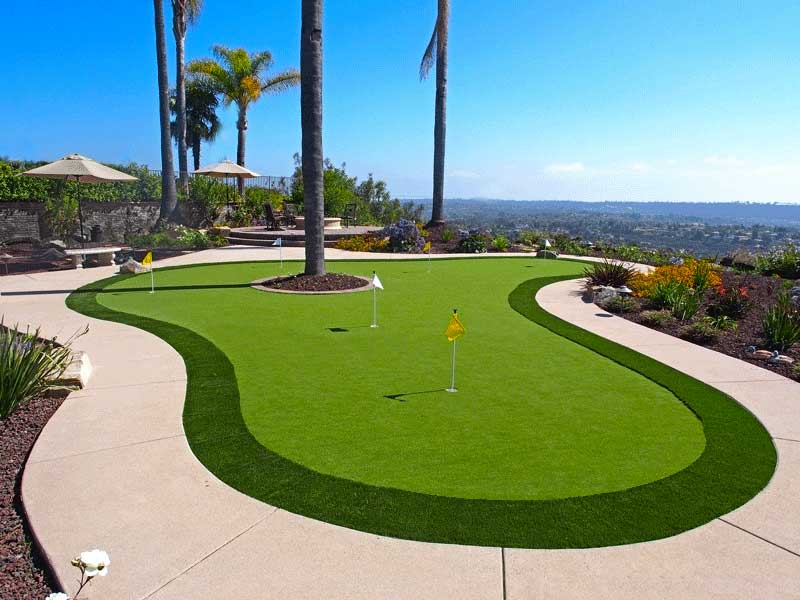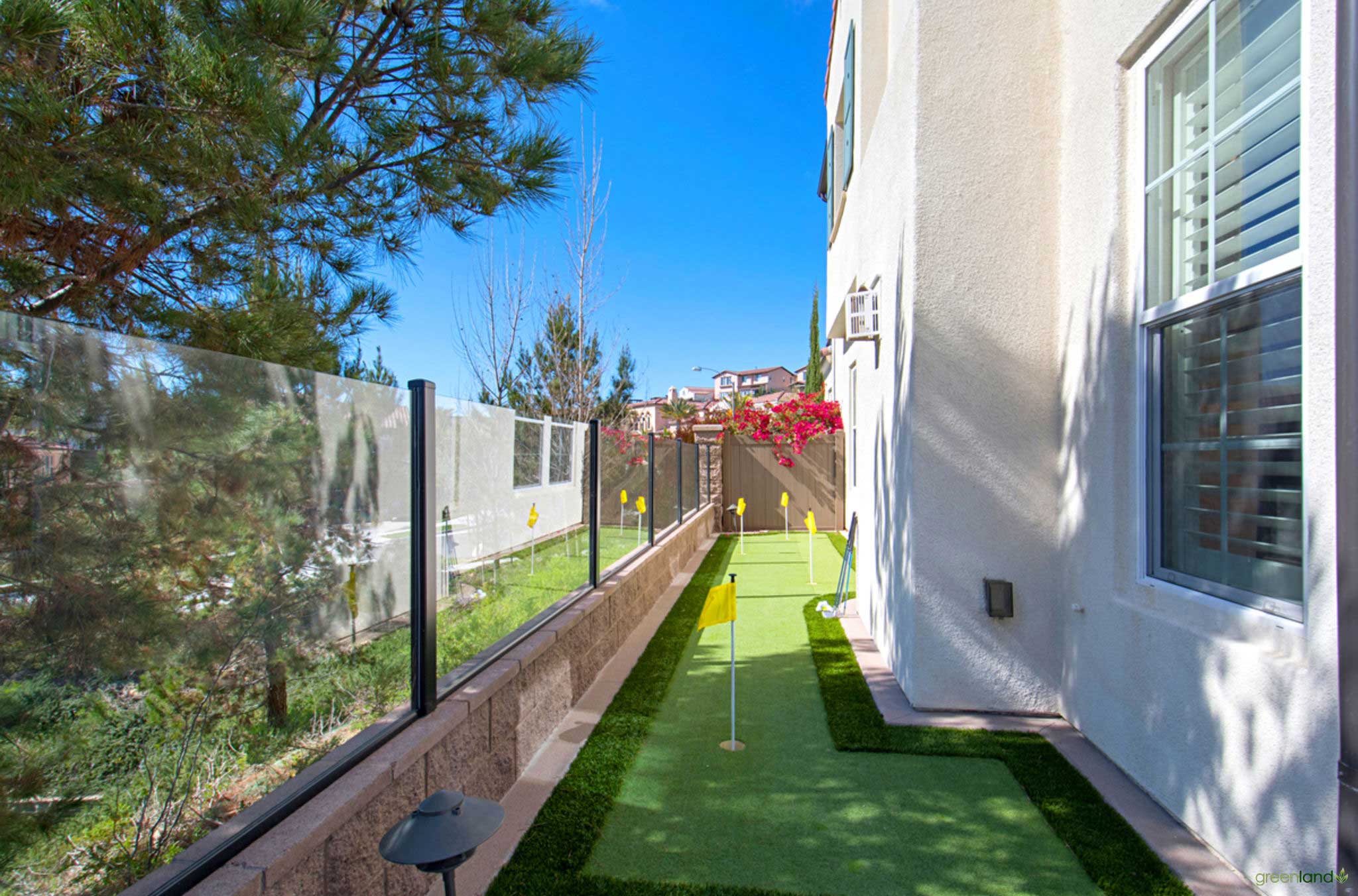 Whether you're looking to add some charm to your patio, or contemporary flare to your walkway, we offer a variety of pavers, including brick pavers, concrete pavers and more. We can help you create an eye-catching walkway, patio or driveway. Our pavers come in a number of styles, shapes and tones to help you add the right personality and charm to transform your outdoor living spaces. Our pavers are designed to be strong, durable and environmentally friendly, ensuring your driveway, patio, or yard will stand the test of time.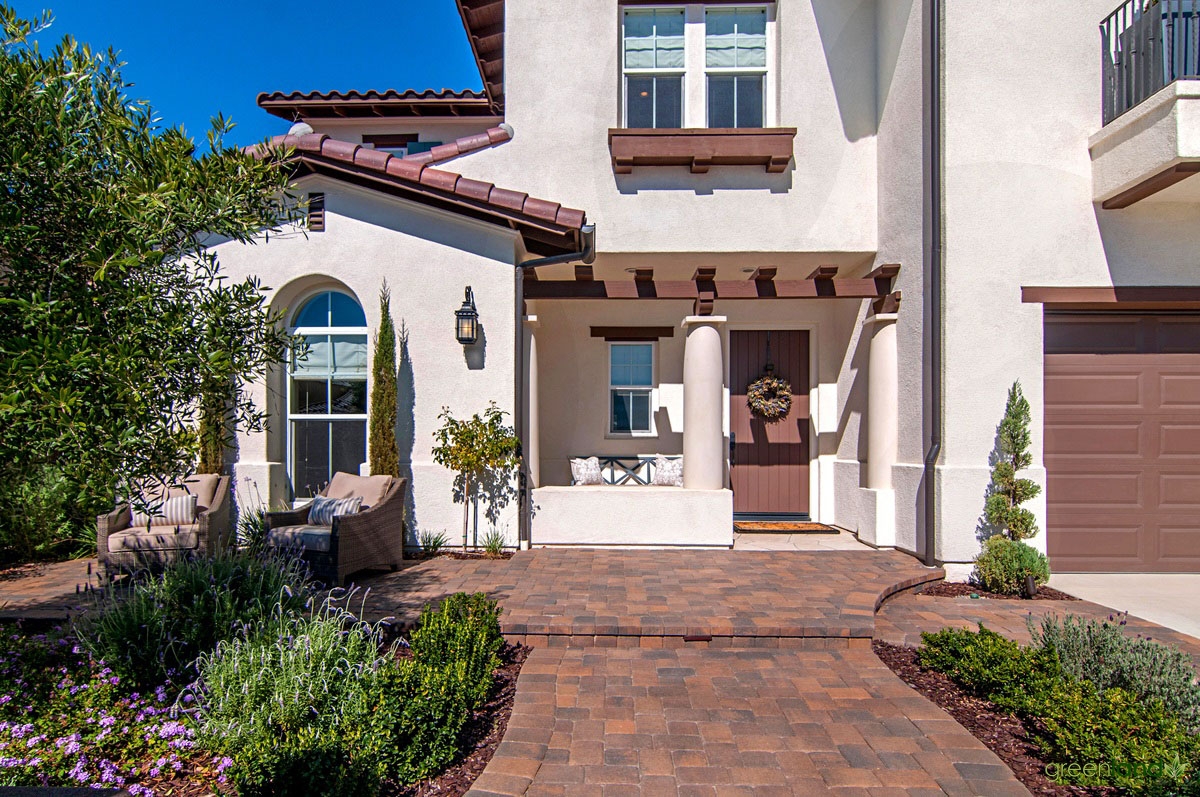 Eco-Friendly Irrigation Systems
Latest advances in irrigation technology, such as weather sensitive controllers and drip irrigation, all controlled from your smartphone, allow for a precise delivery of water with very little waste. Our irrigation experts offer impeccable personalized service and top quality work at the most reasonable price.
There are a wide range of options from traditional systems to low-volume irrigation, like drip and micro-spray systems. Each of these systems has been perfected with over 35 years of experience with the Southern California climate. Whether you need to create an entire irrigation system from the ground up, or modify your existing one, we can recommend the best type and style to match your home's landscaping needs and your budget.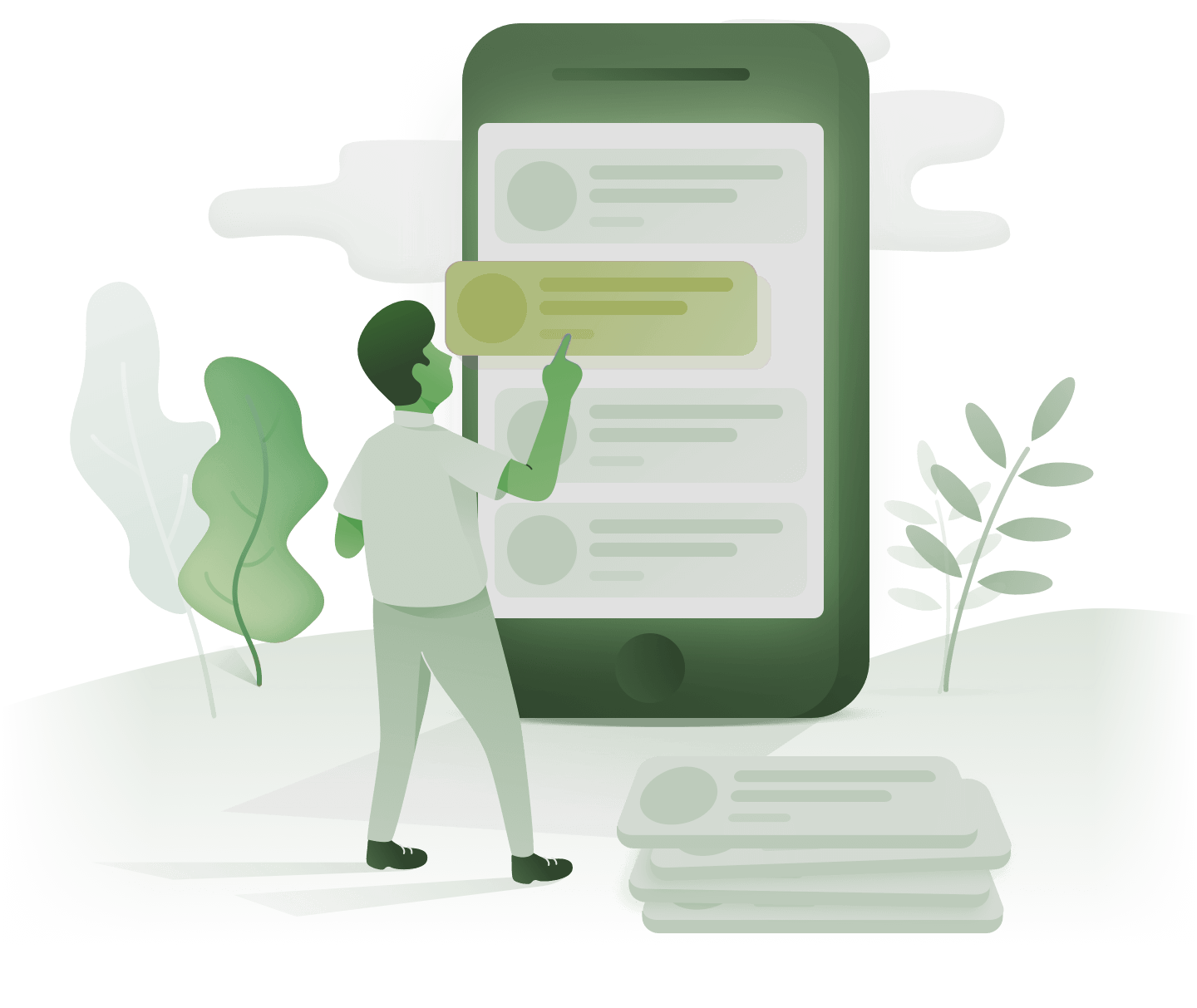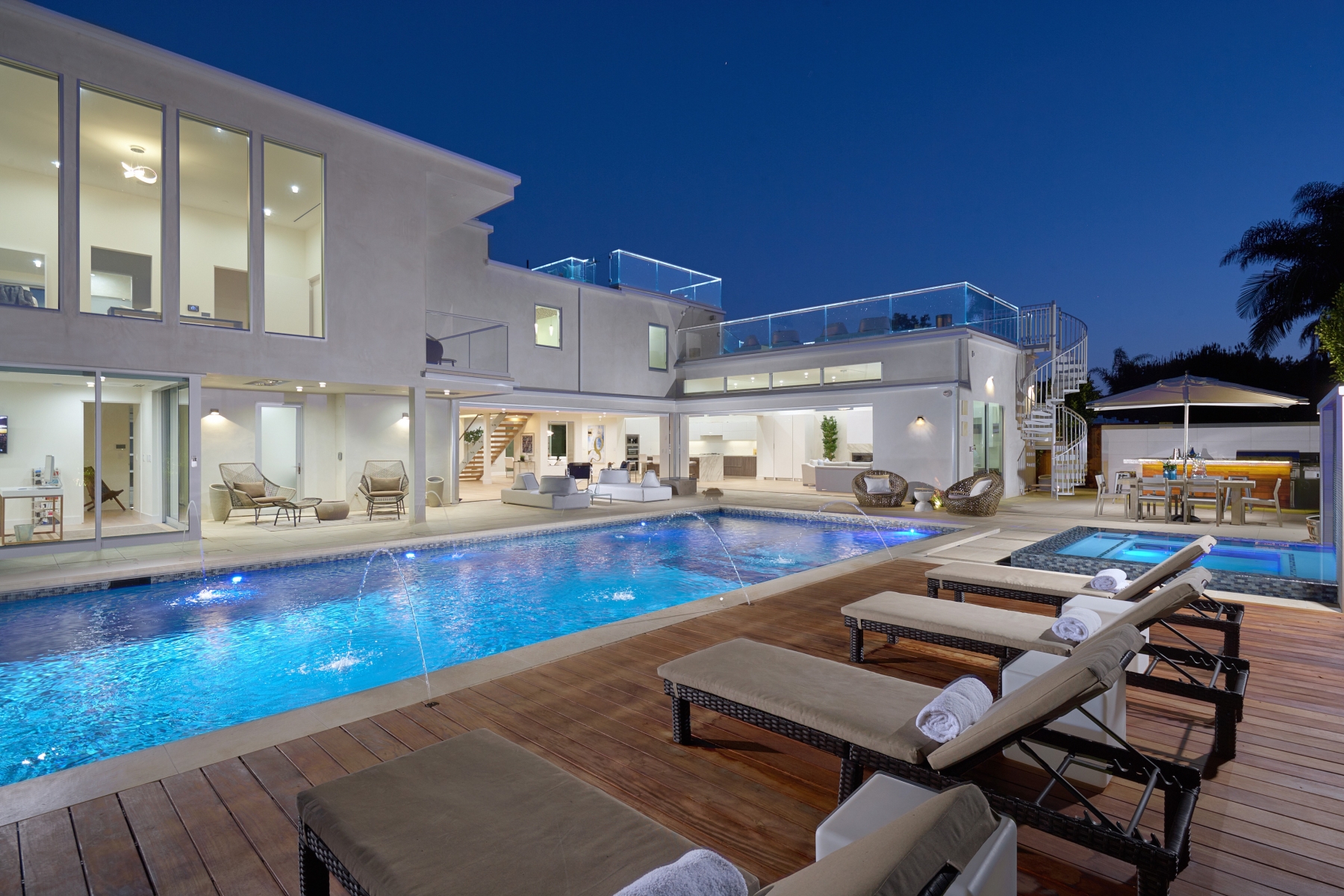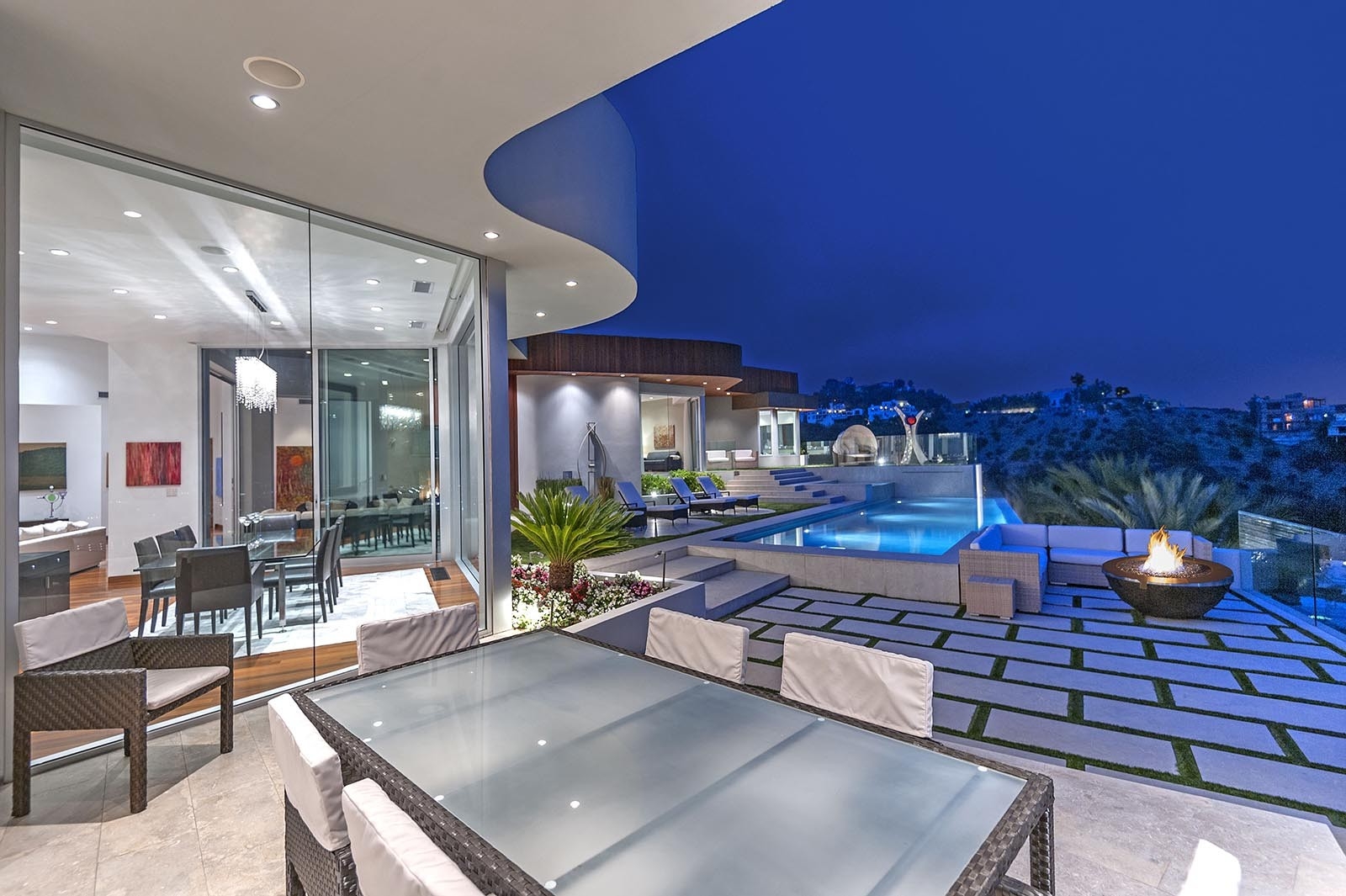 Efficient and eco-friendly lighting systems provide numerous benefits for modern homeowners. Lighting can be used to provide safe access near paths, driveways and entry areas. Dramatically enhance your property by showcasing architectural and landscaping features with beautiful focal and accent lighting.
Efficient and eco-friendly lighting systems provide numerous benefits for modern homeowners. Lighting can be used to provide safe access near paths, driveways and entry areas. Dramatically enhance your property by showcasing architectural and landscaping features with beautiful focal and accent lighting.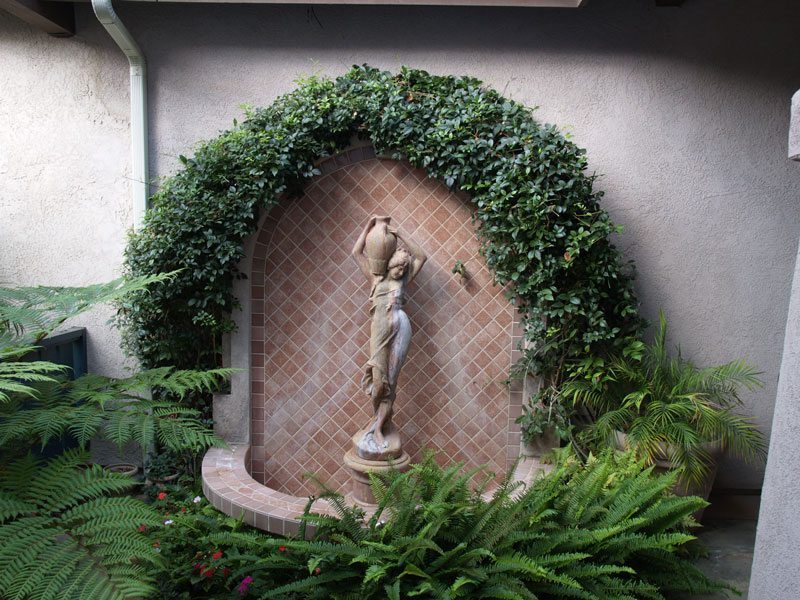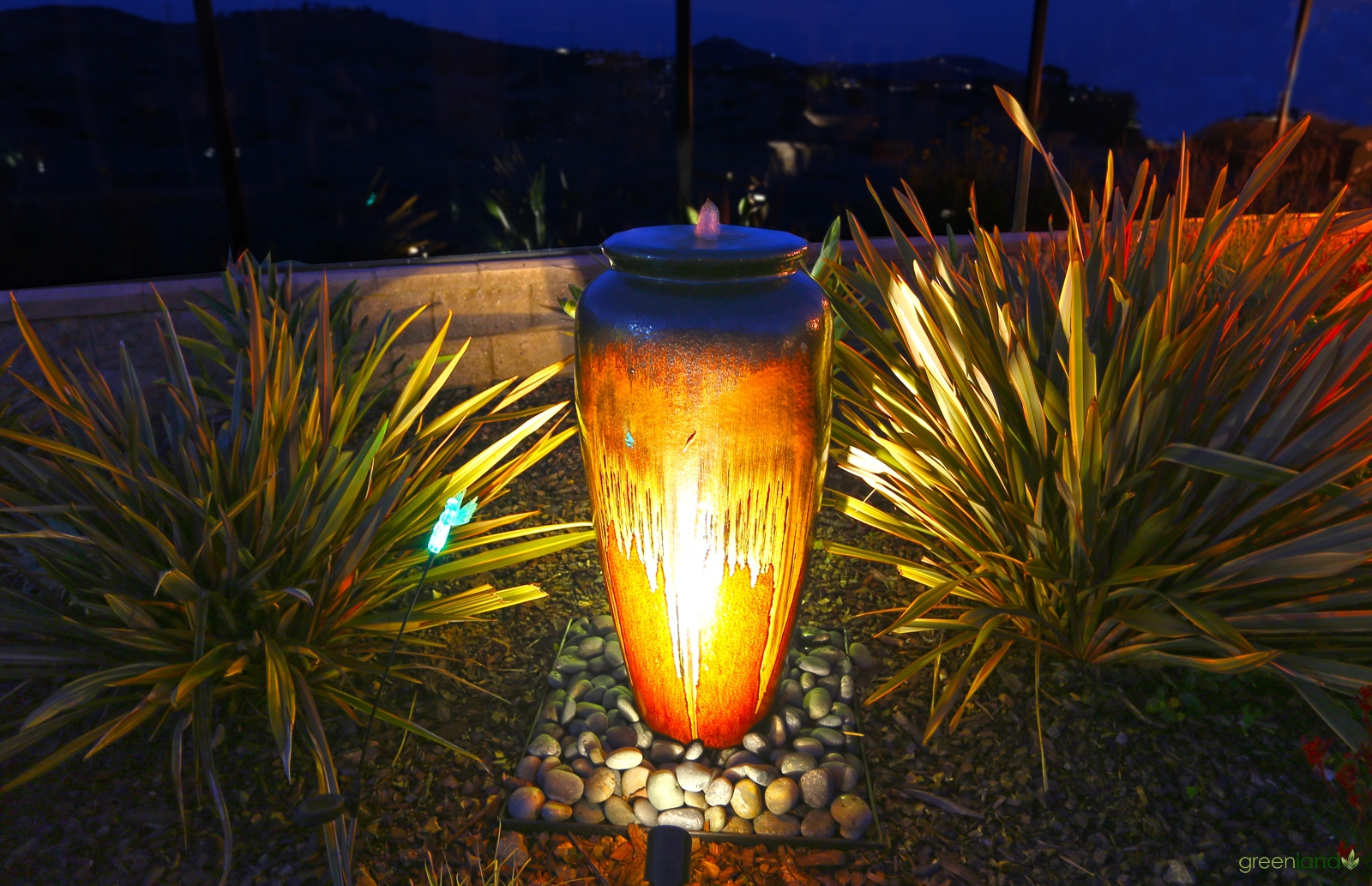 Our fine garden maintenance and lawn care program can be used on a weekly, bi-weekly, monthly, or quarterly basis, and helps you maintain and fine-tune your beautiful landscape. We will mow, sweep, prune, dead head, trim, shape, fertilize, check sprinklers and irrigation, spruce up containers/pots, clean fountains, install fresh plants.

Our pool service includes routine cleaning and maintenance for our customers on a weekly, bi-weekly, or monthly basis. Our servicemen are trained to follow specific guidelines at each visit to ensure your pool is always clean and properly working. At each service, we will vacuum away debris, clean all pool tiles, skim the pool surface, check chemical levels, balance the water, blow off the pool deck, clean around the pool equipment, and check all mechanical systems to ensure they are working properly.

We can also repair all types of pool equipment (timers, heaters, pumps, filters, and more). From chemical services to repairs, we provide the best year-round care for your pool.
Your landscape consultation will guide you in discovering what your landscape requires and can be arranged to accommodate your schedule on weekdays or weekends.
The consultation includes a basic site analysis, photo documentation and a complete evaluation of the area in question. We will show you a rough design plan and provide an estimate including all the components that were discussed and agreed upon during the consultation.
2. Design
Landscape concept plans are narrowly tailored to create landscape styles that best suit your taste, lifestyle and the unique architectural elements of your property.
3. Installation
Following the design phase, we then build and install designs created not only by our own innovative designs, but also those brought to us by our clients from outside vendors and landscape architects. Many of our clients even submit their own ideas and suggestions, which we are always happy to help implement. In every case, we seek out materials and specimen plants of the highest quality and install them under the careful supervision of qualified members of our installation team.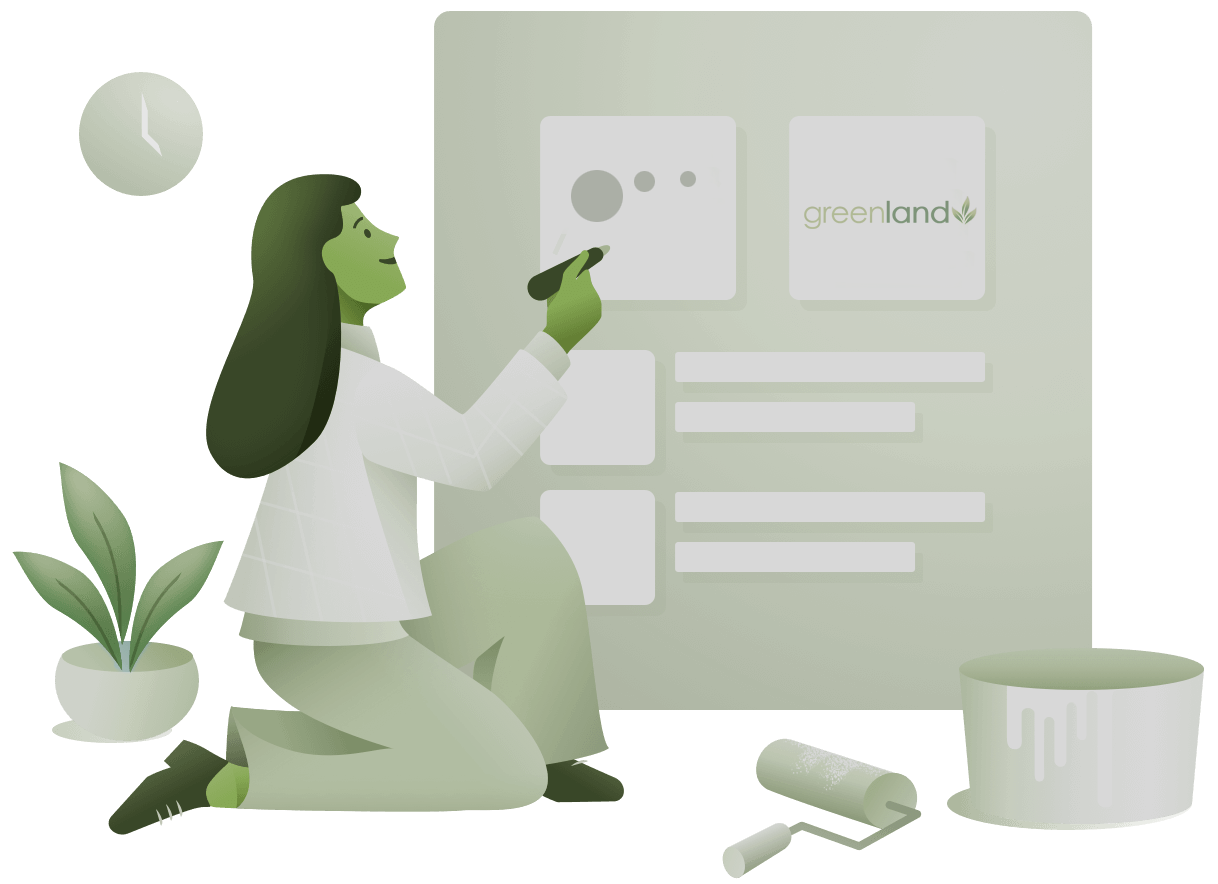 All Services Offered
Additions & Remodeling

Sunroom or Patio Enclosure Build
Brick & Stone

Brick and Stone Patios, Walks, and Steps - Install

Brick, Stone or Block Wall Install
Carpenters

Custom Arbor, Pergola or Trellis
Outdoor Gazeebos, Covered Patios
Concrete

Concrete Delivery

Stamped Concrete - Install

Retaining Wall Install

Concrete Patios, Walks & Steps Install
Decks

Deck or Porch Build or Replace

Deck or Porch Repair
Designers & Decorators

Landscape Designer

Building Designer
Bathroom Designer

Kitchen Designer
Disability Services

Disability Ramp Build

Disability Ramp Repair
Docks

Water Dock Build

Water Dock Repair
Fences

Wood Fence Install

Wood Fence Repair

Wrought Iron Fence Install

Vinyl or PVC Fence Install
Fountains & Ponds

Pond Water Feature

Fountain or Waterfall Water Feature
Furniture Repair & Refinish

Custom Furniture
Garage & Garage Doors

Build Garage
Landscaping

Sod Install

Landscaping for Yard or Garden Install

Soil, Sand, Mulch and rock Delivery

Minor Grading or Resloping

Landscape Curbing Install

Synthetic Grass for Play Area Install
Sheds & Enclosures

Sunroom or Patio Enclosure Repair

Greenhouse Repair

Yurt Build
Swimming Pools

Swimming Pool Heaters Install

Swimming Pool Covers Install

Swimming Pool Remodel

Concrete Swimming Pool Install

In-Ground Swimming Pool Repair

Infinity, Zero-Edge, and Vanishing Pools
Spools and Spas
Cardiff By The Sea, CA
Carlsbad, CA
Del Mar, CA
Encinitas, CA
Escondido, CA
Fallbrook, CA

La Costa, CA
La Jolla, CA
Leucadia, CA
North County
Oceanside
Poway, CA

Rancho Santa Fe, CA
San Diego, CA
San Diego County, CA
San Marcos, CA
Solana Beach, CA